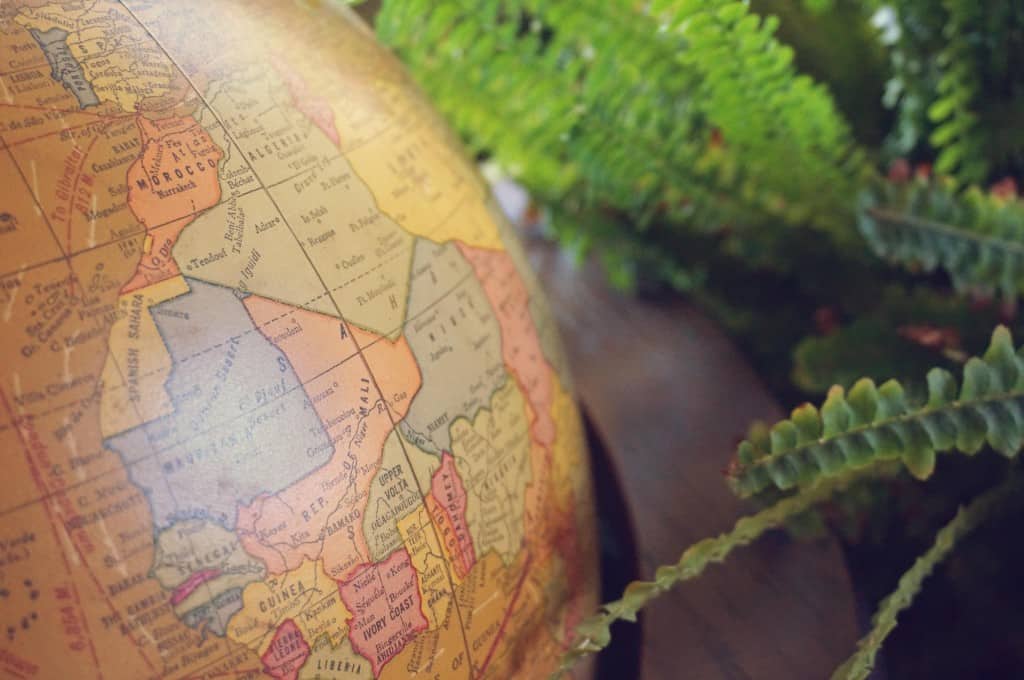 We see plants are everywhere, in fact there are 321,212 species of plants existing around the world. Some of them were never really aware of, the tools to plant them and where they usually grow. In fact, there are some people that made the world records. Here are some lists to be familiar of:
The World's Oldest Living Thing
Up until the late 1970's, the oldest living thing was thought to be a tree called the bristlecone pine (Pinus longaeva), living for nearly 5,000 years high in the White Mountains of California and the Snake Range of eastern Nevada. Then, Dr. Frank Vasek of the University of California at Riverside investigated the strange, circular growth patterns of a flowering shrub called creosote bush (Larrea tridentata) in the Mojave Desert. Dr. Vasek proved that each giant ring of shrubs came from its own ancestral shrub that once grew from the center of the ring. The interesting circular growth pattern can be explained by examining sections of creosote bush stumps (stem crowns) at the base of the shrubs.
The World's Oldest Germinated Seed
There are several documented records for the oldest viable seeds. The most recent record (June 2005) is the seed of a date palm (Phoenix dactylifera) that was discovered during an archaeological excavation at King Herod's Palace on Mount Masada near the Dead Sea. Nicknamed "Methuselah" the palm that sprouted from this ancient seed has been Carbon-dated at about 2,000 years old. Since date palms are dioecious, it is not known whether the palm is male or female. Another seed viability record is the Asian water lotus (Nelumbo nucifera) in which a seed from China was successfully germinated after 1,200 years.
 Most Massive Plant
The most massive organism was reported in December 1992 to be a network of quaking aspen trees (Populus tremuloides) growing in the Wasatch Mountains, Utah, USA, from a single root system, covering 43 ha. (106 acres).
 Longest Surviving Tree
The earliest surviving species of tree is the maidenhair (Ginkgo biloba) of Zhejiang, China, which first appeared 160 million years ago during the Jurassic era.
The Most Beautiful and Largest Flower Garden in World
With 45million flowers in 72,000sqm area and all are surrounded by a flower-decked wall, Dubai Miracle Garden is the most beautiful and largest garden in the World. According to spokesperson Dubai Miracle Garden is currently going for a Guinness World Record for the longest flower wall with a 1km circumference.
World's Most Poisonous Plant.
Castor oil plants can be found in houses and gardens all over the world, despite the fact that their seeds are actually very dangerous. The seeds harbor an incredibly toxic chemical called ricin, and a lethal dose is considered to be in the range of 4 to 8 seeds. Ingestion of the seeds can lead to burning sensations in the mouth and throat, intense abdominal pain, and bloody diarrhea within 36 hours, and can lead to death within 3-5 days if left untreated.
Most Poisonous Fungi
The yellowish-olive Death Cap (Amanita phalloides), which can be found in Britain, is the world's most poisonous fungus, responsible for 90% of fatal poisonings caused by fungi.
Longest Carrot
The world's longest carrot measured over 19 feet! Gardener Joe Atherton of Nottinghamshire, England, grows his carrots in plastic tubes, filled with a compost mix, set at a 45 degree angle, with watering holes placed at precise spots for maximum nutrition and drainage. One of his many tubes produced the record-setting root in 2007, after 14 months of growth.
Biggest Lemon
In 2003, Aharon Shemoel grew a lemon that weighed 11 pounds, 9.7 ounces in his orchard at Kefar Zeitim, Israel. It appears to be a conjoined twin.
Biggest Watermelon
The Lloyd Bright family grew a watermelon in 2005 that weighed 268.8 pounds, enough to feed an entire reunion. The Bright farm of Hope, Arkansas had already set two previous records for watermelons.
Biggest Potato
The Year of the Potato was celebrated in 2008, so it was only appropriate that a record would be set. Khalil Semhat, a farmer in Tyre, Labanon dug up a potato that required help from a friend just to get it out of the ground. The huge tuber weighed 24.9 pounds! However, there were questions raised as to whether this was a potato or a sweet potato. Sweet potatoes grow much larger, and the world record sweet potato was an 81 pounder grown by Manuel Pacrez in Spain in 2004.
Biggest Pumpkin
The world record for the biggest pumpkin is broken almost every year as gardeners compete in contests all over. The current record is held by high school math teacher Christy Harp, who brought a 1,725 pound monster pumpkin to the Ohio Valley Giant Pumpkin Growers annual weigh-off in October of 2009.
Smallest Seeds
Thesmallest seeds are those of epiphytic orchids. Each gram contains around 992.25 million seperate seeds (28,129.81 million/oz.). Epiphytic plants are non-parasitic plants that grow on other plants. Orchids form the world's largest family of plants, they grow wild in every continent except Antarctica.
Smallest Orchid
Cerro Candelaria Reserve, ECUADOR– American scientist Lou Jost has discovered a cream-coloured orchid which measures only 2.1mm across-which sets the new world record for the Smallest orchid.
Largest wicker basket
CLUJ, Romania — A team of 16 skilled craftsmen created a wicker basket 9.48 meters high and basis of 18.17 meters long, 10.20 meters wide during 9 days– establishing a new world record for the Largest Wicker Basket.
Largest area cultivated
TIMISOARA, Romania–By cultivating an area the size of a football pitch every two minutes, the world's biggest tractor, a 570-horsepower, AGCO Challenger MT875B has set a world record.
 Largest Wildlife Feed Cake
GRAND RAPIDS, MI, USA –To mark the company's 20th anniversary, Birdola Products created a 5-by-4-foot, 14-inch-thick and 700-pound wheight wildlife seed cake-setting the world record for the Largest Wildlife Feed Cake.
 Largest Farm Tractor 
BIG SANDY, MT, USA — BigBud 747, a custom built agricultural Tractor is 28½ feet long, 14 feet high, 21 feet wide and has a wheel base of 16 ½ feet; it weighs in at 45 tons with a full diesel and hydraulic oil tank – setting the new world record for the Largest Farm Tractor.
Largest hanging Basket
PADDINGTON, LONDON, UK — A giant basket was created to mark the opening of Hotel Indigo London Paddington; it measures over 20ft by 10ft, wheight over 250 kilos, hangs 7.5 metres (25 feet) from the ground off the side of the building and contains over 100 types of flowers including orchids, roses and conifers, setting the world record for the Largest hanging basket.
Largest Horizontal Wall of Flowers
IPSWICH, Suffolk, UK — The new world record for theLargest horizontal wall of flowers was set by Thompson & Morgan's seed company with a 200ft long wall of flowers containing more than 20,000 blooms.
 Tallest Amaranth Plant
RHINEBECK, NY,USA– Jesse Eldrid cultivated a 27 feet, 10 inches Amaranthus Australis and has set world record for the Tallest Amaranth.
 Largest Organic Cucumber
The Segee family in Leimert Park (daughters Jai'Neil, Dee'Anna, Jai'Lynn, mom Tiffany and dad Vernon) has cultivated a 28-pound cucumber-setting the world record for the Largest organic cucumber.
 Longest Wheelbarrow Journey
SYDNEY, Australia — David Baird, 65, a British pensioner, ran from Perth in Western Australia to Sydney on the east coast while pushing a wheelbarrow for the whole 112-day , 2,572 miles (4115km) journey-setting the world record for theLongest wheelbarrow journey.
 Longest farm tractor wheelie
WHITEHALL, MT, USA — Mike Hagan, a long-haul trucker by trade, went 5.3 miles on his two rear tires at Elk Park, north of Butte, setting the new world record for the longest farm tractor wheelie.
 Largest Corn Maze
DENTON, Neb., USA — Benson Farms (owner Wayne Benson) has created a 54.428 acre maze which sets the world record for the  Largest Corn Maze.
 Largest Puffball 
SLAITHWAITE,West Yorkshire,UK–SchoolboyFinley O'Neill stumbled upon a giant puffball, measuring a whopping 66.5 inches – which sets the world record for the Largest Puffball Mushroom.
 Largest Vertical Garden:
SINGAPORE — Occupying a surface area of 2,289 sq m, the 24-storey green belt at Tree House condominium in Bukit Timah, built by property firm City Developments Limited (CDL), is expected to achieve more than $500,000 in energy and water savings a year, sets the newworld record for the Largest vertical garden, according to the World Record Academy
 Tallest rose bush
MORRISTOWN, NJ, USA — Robert Bendel, 73, have grown a red rose brush measuring about 18 feet 6 inches- setting the new world record for the tallest self-supported rose bush.
 Heaviest gooseberry
WHITBY, UK — During the Egton Bridge Gooseberry Show , Bryan Nellist, a 73-year-old amateur gardener, displayed a 35 drams (2.19 oz or 62.0 grams) Woodpecker whopper-which sets the new world record for the Heaviest gooseberry.
Longest Spaghetti Bean
WORTHING, UK — Toni Velardo, 62, of Guildford Road, Worthing, has grown a 2.75ft-long bean, setting the world record for the  Longest Spaghetti Bean.
 First all-black petunia
LONDON, UK–Scientists from flower breeding company Ball Colegrave have created the world's first all-black petunia plant, called Black Velvet; the new flowers were developed using natural breeding techniques to turn them a dark black colour and will be on sale at a premium price of 2-3 pounds per plant.
 Fastest Pumpkin Carver
ATLANTIC CITY, NJ, USA — Steven Clarke, Havertown, Pa., carved one ton of pumpkins in 3:33:49 -setting the world record for the Fastest pumpkin carver.
 Most Saplings Planted in One Day
CHAUPAKHI, (Assam), India — Around 300 people including government officials, NGO workers and residents of Chautaki Village in Assam's Bongaigaon district planted 284,000 saplings, setting the world record for the Most saplings planted in one day.
Most Wheat Harvested in 8 Hours
LINCOLNSHIRE, England — A tracked CLAAS LEXION 580+TT combine, equipped with a 10.5 metre cutterbar, harvested in eight hours 532.14 tonnes (1,173,167 lbs) -setting the world record for the  Most wheat harvested in 8 hours by a team.
Source: https://www.youtube.com/watch?v=ALbzG–qaaU
Source: https://www.youtube.com/watch?v=BGjkWAi0fak

Source: https://www.youtube.com/watch?v=xgtIus1eURQ
These lists are some of the Garden World records that will surely grow till the present time as mankind continue to innovate and explore the world of gardening. May this records be a reliable reference for your future plans in the gardens and it's elements.