Here are 35 of the best bbq recipes you may recreate to enjoy with your family and friends in any party you're planning to host with the perfect weather. Everybody goes barbecue-frantic when the sun's out! Solid flavors, rich sauces, roasted vegetables… paradise; so get that flame broil on poss.
1. DJ BBQ's World's Best Meatloaf with A Spicy Barbecue Sauce
by Jamie Oliver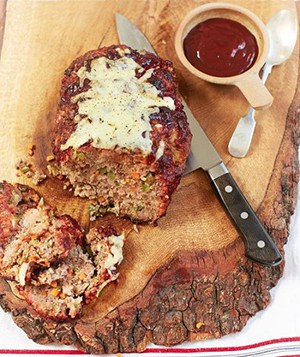 You use the heat canyon technique for this where you place coals on opposite sides to create two heat walls. This will give you a great tender cook for your meatloaf as you put a drip tray in the middle of the bbq. The sauce is a mixture of BBQ and ketchup, fresh diced onions, peppers and carrots, then adding breadcrumbs, salt and pepper. Drip the sauce on the cooked meatloaf and you have yourself a delectable meal.
Ingredients:
• 1 large onion
• 1 green pepper, deseeded
• 1 medium carrot, peeled
• 400g beef mince
• 400g higher-welfare pork mince
• 1 clove of garlic, peeled and crushed
• 1 teaspoon Old Bay seasoning, or 2 fresh bay leaves, crushed
• 2 teaspoon Worcestershire sauce
• 100g stale breadcrumbs
• 1 teaspoon sea salt
• 1 teaspoon freshly ground black pepper
• 2 large free-range eggs
• 150 g Cheddar cheese, optional
For the Sauce:
• 100 ml BBQ sauce
• 50 ml tomato ketchup
• Tabasco sauce
• Chili sauce
2. Spicy Steak with Rosemary Fries
by House and Garden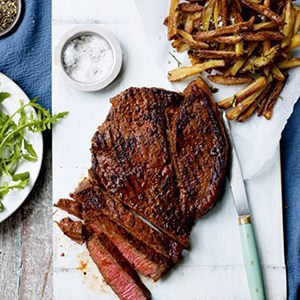 Spicy Steak with Rosemary Fries is a classic barbecue meal for every family. Steak covered in lemon zest, praprika, chilli for the spiciness, and oregano will give it all its flavors. Potatoes should be sliced and cooked with oil until golden for a crunchy side dish of fries. After the steak has been cooked on the ribbed grill pan along with its fries, it will become a delicious meal to remember.
Ingredients:
• Zest ½ lemon
• 1tbsp smoked paprika
• 1tsp dried chilli flakes
• 1tsp dried oregano
• 350g (11oz) beef rump steak
• 400g (13oz) red-skinned baking potatoes, skin on
• 1tbsp olive oil
• 1tbsp fresh rosemary, finely chopped
3. Bacon Beef Steak Rolls
by BBQ Pit Boys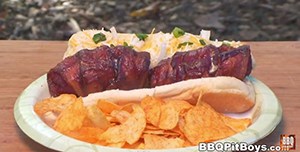 Bacon Beef Steak rolls will make anyone's mouth water. The beef steak is wrapped in a good quality and thick pork belly bacon after being hated from 250f- 275f. The bacon steak roll is covered in BBQ sauce of your choosing and cooked "low and slow."
Ingredients:
• Cube Steaks, sometimes referred to as minute steaks
• Utilize a meat hammer to thin them out and to further soften.
• You can likewise marinade them for a couple of hours already utilizing your most loved steak marinade.
• Season; include new garlic, green onions.
4. The Best Barbecue Beans
Serious Eats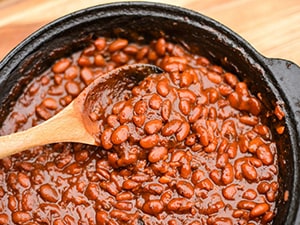 The best BBQ Beans is whisked together through 2 quarts of water and salt, then being cooked along with crisp bacon. Adding onions, ketchup, brown sugar, molasses, mustard, vinegar, bqrbecue rub, and hot sauce will provide all the flavors needed to make the BEST BBQ beans.
Ingredients:
• Water
• 2 tablespoons kosher salt
• 1 pound small dried beans, such as great northern, navy, or pinto beans, picked over and rinsed
• 8 ounces sliced bacon, cut into 1/2-inch strips
• 1 1/2 cups finely minced yellow onion (about 1 large onion)
• 2 tablespoons finely diced seeded jalapeño (about 1 medium pepper)
• 1/4 cup finely diced green bell pepper
• 1 tablespoon minced garlic (about 3 medium cloves)
• 2 cups chicken stock or low-sodium broth
• 1 1/2 cups ketchup
• 2/3 cup dark brown sugar
• 1/3 cup honey
• 1/4 cup molasses
• 2 tablespoons yellow mustard
• 1 tablespoon apple cider vinegar
• 1 tablespoon barbecue rub
• 1 tablespoon hot sauce
5. Maria Elia's Lamb Cutlets
by Red Online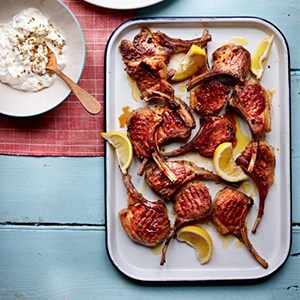 Maria Elia's lamb cutlets are very delicious. They are grilled and mixed together with garlic, oregano, olive oil, and lemon juice, as well as sea salt and black pepper. After 2 hours of being marinated and cooked, the cutlets should be served with a side salad or some yogurt for an appetizing meal.
Ingredients:
• 3 garlic cloves, crushed
• 1 tbsp dried oregano
• 120 ml olive oil
• 80 ml lemon juice
• Sea salt and freshly ground black pepper
• 1 tsp fennel seeds
• 12–-16 lamb cutlets (depending on your appetite! )
• For the fennel tzatziki:
• 1 garlic clove, crushed
• 300 ml Greek yogurt
• ½ fennel bulb
• 2 tbsp lemon juice
• A pinch of caster sugar
• Lemon wedges
6. Apple Spice Baby Backs with Cider-Rum Barbecue Sauce
by Barbecue Bible
Apple Spice Baby Backs with Cider –Rum BBQ sauce are grilled ribs everyone will enjoy. After the ribs are cooked, spray the ribs with apple cider which will keep the moist and full of flavor. Before serving, brush the side of the ribs with Cider Rum or your choice of BBQ sauce.
Ingredients:
• 1-1/2 cups wood chips or chunks (preferably apple or hickory), soaked in water to cover for 30 minutes, then drained
• 2 racks baby back pork ribs (4 to 5 pounds total)
• 1/2 cup Sweet and Spicy Barbecue Rub (see step 3) or your favorite rub
• 1 cup apple cider in a spray bottle
• Cider-Rum Barbecue Sauce (see step 6) or your favorite sauce
7. Barbecued Pork Belly
by Great British Chefs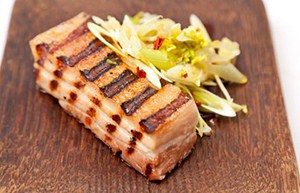 This BBQ pork belly recipe is one of the best BBQ dishes known. It is mixed with lemon zest, salt, for all the flavors and served with side salsa. The salsa is made with onions and seasoning. The coulour is very nice and you surely will enjoy this tasty treat.
Ingredients:
• Pork belly
• 1kg of pork belly
• Rock salt
• Lemon zest
• Thyme
• Vegetable oil
• Salsa
• 10 grelot onions
• 15g of parsley
• 2g of chilli flakes
• 7g of Chardonnay vinegar
• 20g of lemon oil
• 2g of chives
• 3g of coriander
8. Green Curry Chicken Drumsticks
by Good to Know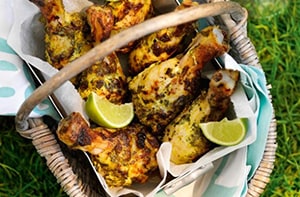 Green curry chicken drumsticks gives you distinct flavors that you will enjoy. The drumsticks are cooked overnight with ground cumin, paprika, chilies, lemon, and olive oil. This bbq recipe is very unique and does add a lot of flavor for everyone to enjoy.
Ingredients:
• 8 large, skinless chicken drumsticks
• 150g fat free natural yogurt
• 1 tbsp mild curry powder
• 1 tsp turmeric
• 5 tbsp finely chopped coriander
• 5 tbsp finely chopped mint
• Finely grated zest and juice of 1 lime
• Salt and freshly ground black pepper
9. Swordfish Steaks with Chermoula
by Delicious Magazine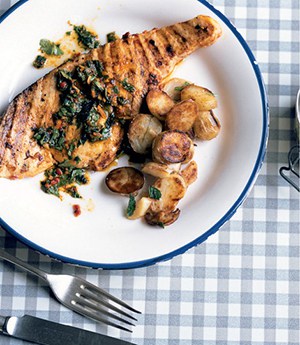 Swordfish steaks with Chermoula is mixed together with herbs and cooked through charcoal bbq. Seasoning the fish and brushing it with oil will have it cooked very nicely. Served with sautéed potatoes and a green salad, you will have a toothsome swordfish steak.
Ingredients:
4 x 200-225g swordfish, tuna, hake or halibut steaks, about 2cm thick
Oil, for brushing
Sautéed potatoes, to serve
For the chermoula:
3 garlic cloves, finely chopped
1½ tsp ground cumin
1 tsp paprika
½ medium-hot red chilli, deseeded and chopped
½ tsp saffron strands
Juice of 1 small lemon
4 tbsp extra-virgin olive oil
2 tbsp chopped fresh coriander
1. tbsp chopped fresh mint
10. Vermont Maple Glazed Pig Candy
by Amazing Ribs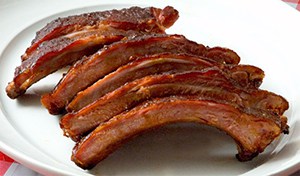 Wrapping the meat infoil late in the cook, and afterward take the juices from the foil, include some maple syrup, and make the sauce. This technique makes a coating, not by any means a sauce. It makes to a great degree delicate, succulent, meat with a lovely reflect like sheen. More than one cook has kept in touch with me to let me know that they make the best ribs he ever tasted.
Ingredients:
• 1 slab ribs
• 3 tablespoons vegetable oil
• 4 tablespoons of Meathead's Memphis Dust
• 1 cup apple juice
• 2 pinches salt
• 2 teaspoons hot sauce
• 1/4 cup real maple syrup
• About the maple syrup. Make a point to utilize genuine maple syrup, not the fake stuff. Interestingly, the less costly, darker, Grade B maple syrup is marginally better for this formula and generally cooking.
11. Barbecued Eggplant with Miso Glaze
by Saveur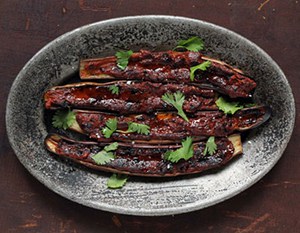 This is a great barbecue recipe idea. The mystery of this exquisite dish, served by gourmet specialist Ian Chalermkittichai at his New York eatery the Ember Room, is that its seared in the stove, the direct warmth source from above giving an overwhelming, consistent warmth that both kneads the eggplant and caramelizes its sweet-appetizing miso coat.
Ingredients:
• 3 Japanese eggplants
• ½ tsp. sea salt
• ¼ tsp. red chili flakes
• 3 tbsp. white miso paste
• ¼ cup Thai red curry paste
• 1½ tsp. palm sugar
• 2 sprigs cilantro, roughly chopped
12. Chile Miso Chicken Wings
by Saveur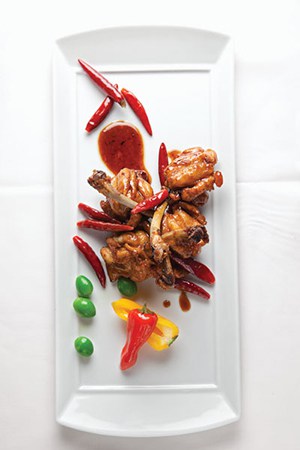 Chile Miso Chicken wings provides a great family meal of classic chicken wings covered in a specialty sauce of soy sauce, sugar, wine, and a lot of flavors. Served with chilli and other veggies on the side, here are one of the most mouth-watering wings available.
Ingredients:
• ½ cup soy sauce
• ½ cup sugar
• ¼ cup cornstarch
• 1 tbsp. rice vinegar
• 4 tsp. Chinese rice wine
• 1 tbsp. Asian chile-garlic sauce (available at Asian Food Grocer)
• 1 tsp. white miso
• 3 cups canola oil, for frying
• 2 lb. chicken wings or drumettes
• Dried chiles de arbol
13. Smoky Paprika BBQ Potato Chips
by Leite's Culinaria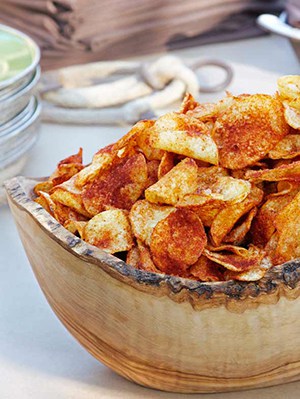 These finger lickin' good BBQ chips will be unforgettable once you try them. With the right amount of spice and the home cooked touch, this is the perfect get together appetizer. There is a perfect amount of seasoning and these are enough that you won't want to buy chips but instead cook these!
Ingredients:
• Two 10-ounce bags best-quality plain salted potato chips (such as Kettle Chips)
• 1 1/2 teaspoons turbinado sugar, such as Sugar in the Raw
• 1/2 tablespoon coarse sea salt, preferably gray salt
• 2 tablespoons smoky paprika
• 1 tablespoon plus 1/2 teaspoon garlic powder
14. Salmon Skewers with Cucumber Yogurt Sauce
by Sprouted Kitchen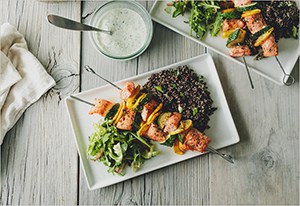 Salmon Skewers with Cucumber Yogurt sauce is very deep and rich in taste and is one of your best choices for fish. It is very colourful and presentable with such a clean cut meal. The mixture of the seasoning, cucumber yogurt, and salmon creates a delicious healthy meal.
Ingredients:
• 1 1/2 lbs. Wild Alaskan Salmon, skinned and deboned
• 2 zucchini
• 2 lemons, sliced very thin and seeded
• 2 Tbsp. extra virgin olive oil
• 1 Tbsp. fresh lemon juice
• 1 Tbsp. maple syrup
• 1/2 tsp. sea salt
• 1/4 tsp. paprika
• 1/2 tsp. Italian seasoning
• 1/4 – 1/2 tsp. red pepper flakes
15. Corrine Trang's Korean BBQ Chicken
by The Wednesday Chef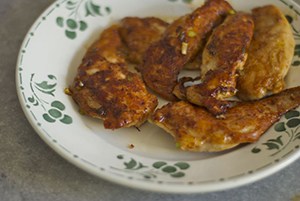 This sapid dish is popular among chicken recipes. Korean BBQ is very well known for its delicious flavor and combining it with home cooked chicken is a perfect combination. With the first taste, your mouth will be smothered with the goodness of the Korean BBQ Sauce.
Ingredients:
• 2 pounds boneless, skinless chicken breast
• 1 tablespoon granulated sugar
• 2 tablespoons Japanese or Korean dark soy sauce
• 1/2 ounce ginger, peeled and grated
• 1 large garlic clove, peeled, crushed, and minced
• 1 scallion, root and green stems trimmed, and stalk minced
• 1/2 teaspoon toasted sesame oil
• Freshly ground black pepper (optional)
• Vegetable oil
16. Grilled Vegetables with Za'atar Vinaigrette
by David Lebovitz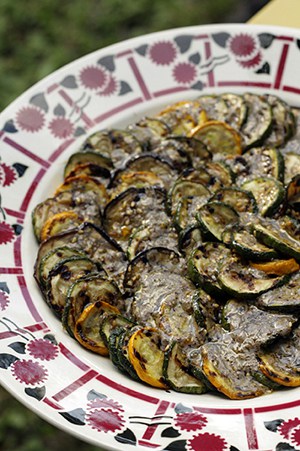 Grilled Vegetables covered with Za'atar Vinaigrette is great for people who love vegetables and those who need a healthy meal. The vinaigrette provides the sweet and flavours needed to enjoy your grilled vegetables, creating the luscious side dish or something quick to serve at parties.
Ingredients:
• 2 – 2 1/4 pounds (1kg) zucchini and eggplants
• Salt
• Olive oil
• For the za'atar vinaigrette
• 2 tablespoons sherry or cider vinegar
• 2 teaspoons yellow mustard
• Pinch of salt
• 6 tablespoons (90ml) extra-virgin olive oil
• 4 teaspoons za'atar
• Optional: 1/4 teaspoon sumac
17. Bacon Wrapped Beef Medallions with Smoked Paprika Butter
by Pinch My Salt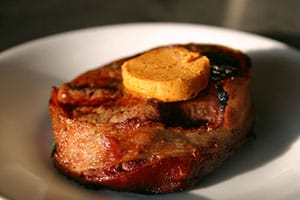 Bacon Wrapped Beef medallions with Smoked Paprika Butter is a great combination. The smoked paprika butter compliments beef medallions especially with the bacon wrapped. This savoury dish creates an aroma and feeling which will leave people wanting more.
Ingredients:
• 4 beef tenderloin steaks, 1 1/2 inches thick
• 4 slices bacon
• Olive oil
• Kosher salt
• Freshly ground pepper
18. BBQ Chicken and Waffle Sandwich
by Annie's Eats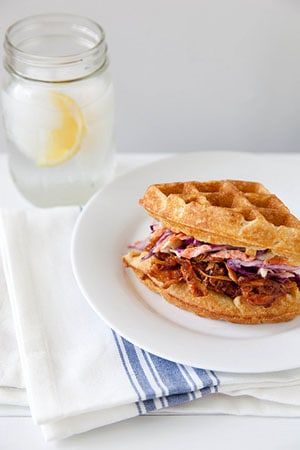 The BBQ Chicken and Waffle Sandwich is surprisingly very delicious leaving the perfect breakfast meal to power you up for your day. This is a fun alternative if you are looking for something new and trust that you won't regret it.
Ingredients:
For the waffles:
1¼ cups all-purpose flour (or white whole wheat)
¼ cup yellow cornmeal
1½ tsp. baking powder
1 tsp. sugar
½ tsp. baking soda
½ tsp. salt
¼ tsp. freshly ground black pepper
1/3 cup unsalted butter, melted
2 large eggs
1¼ cups buttermilk
3 tbsp. minced chives
For the slaw:
¼ head of green cabbage, thinly sliced or shredded
¼ head of red cabbage, thinly sliced or shredded
1 large carrot, peeled and shredded
2 tbsp. apple cider vinegar
1 tbsp. olive oil
2-3 tbsp. buttermilk
2 tbsp. greek yogurt
1 tsp. Dijon mustard
Salt and pepper, to taste
19. BBQ Chicken Pan Pizza
by Two Peas and Their Pod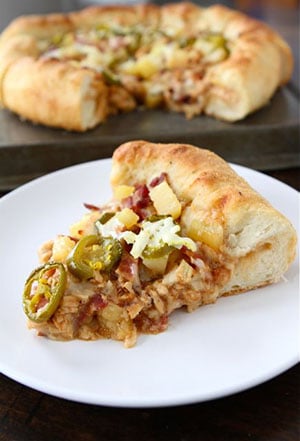 Pizza is one of the most beloved foods across world, so why not make it even better? Adding BBQ chicken on top of a pizza is very fulfilling and delicious and can be served during all occasions. Prepare this dish whenever you need something enjoyable to eat.
Ingredients:
For the dough:
1 cup milk (we use skim)
1 tablespoon butter
1 tablespoon granulated sugar
1 teaspoon salt
1 package instant dry yeast
5 cups all-purpose flour (may need additional flour, depending on dough texture)
About 1 cup of water-add a little at a time until you get the right dough consistency
For the pizza toppings/sauce:
1 large (6 ounce) boneless chicken breast, defrosted
2 tablespoons Honey BBQ Sauce, for the chicken
1/2 cup Honey BBQ Sauce, for the pizza
2 1/4 cups shredded mozzarella cheese, divided
3 pieces cooked bacon, chopped
1/2 cup diced pineapple
1/2 cup jarred sliced tamed jalapeño peppers
20. BBQ Turkey Meatloaf
by The Kitchn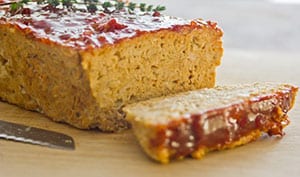 BBQ Turkey meatloaf is a family oriented meal and you and your family can enjoy. Replacing the ordinary beef with turkey in your meatloaf will give you a great tasting new experience. The flavours provided by the spices and vinegar will be a sweet yet fulfilling dish.
For the meatloaf:
2 pounds ground turkey (or beef/pork)
1 cup barbecue sauce (recipe below)
1 onion, chopped fine
1 large carrot, chopped fine
1/2 cup bread crumbs
3 – 4 garlic cloves, minced
2 eggs, lightly beaten
Kosher salt and freshly ground black pepper
Additional barbecue sauce for toppingFor the barbecue sauce:1 tablespoon unsalted butter
2 onions, chopped small
2 1/2 cups (32 ounce bottle) ketchup
1 1/2 cups (12 ounce bottle) chili sauce, such as Heinz
1/2 cup packed brown sugar
1/3 cup cider vinegar
1/3 cup dark molasses
1/4 cup prepared mustard
1 tablespoon Worcestershire sauce
Juice from 1/2 lemon
Juice from 1/2 orange
Kosher salt and freshly ground black pepper
21. BBQ Pork Shoulder
by Simply Recipes
BBQ Pork Shoulder shows that pulled pork sandwiches are still able to pack a mouthful of flavour. This piquant dish is fast and reliable and will leave your family wanting more. Smothered with BBQ sauce and tender pork, you will surely enjoy this one.
Ingredients:
• One 4 pound pork shoulder roast, preferably Boston butt, boneless or bone-in (you can easily make two 4 pound roasts in about the same amount of time if your grill is big enough to accommodate them both)
• 5 to 6 cups of wood chips, hickory, oak, apple, or other fruit wood
• BBQ Rub (enough for a 4 pound roast)
• 2 Tbsp brown sugar, packed
• 2 Tbsp white sugar
• 2 Tbsp paprika
• 1 Tbsp kosher salt
• 1 1/2 teaspoons ground cumin
• 1 1/2 teaspoons garlic powder
• 1 1/2 teaspoons chipotle chile powder
• 1 1/2 teaspoons black pepper
• Santa Maria Rub (enough for a 4 pound roast)
• 1 Tbsp salt
• 1 Tbsp finely ground black pepper
• 1 Tbsp garlic powder
• 1 Tbsp onion powder
• 1 teaspoon cayenne
• 1 Tbsp dried oregano
• 1 teaspoon dry rosemary (or fresh, finely minced)
• 1/2 teaspoon dry sage
• 1/4 teaspoon sugar
22. Baked BBQ Pork Taquitos
by Smells Like Home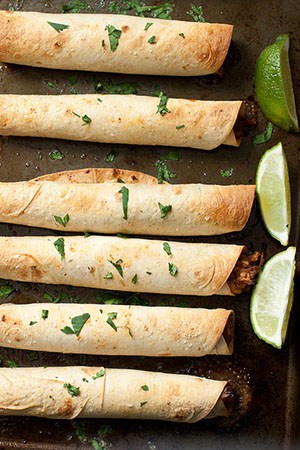 Bringing a favorite, Spanish classic, the baked BBQ Pork Taquitos is very delicious and brings all the tastes of spiciness, BBQ, mustard, and peppers. This is perfect for the upcoming Cinco de Mayo and is very quick to whip up!
Ingredients:
For the taquitos:
3 oz cream cheese, softened to room temperature (reduced-fat is fine)
1/3 cup BBQ sauce
½ tsp paprika
½ tsp chile powder (I love ancho chile powder but regular chili powder is fine too)
½ tsp garlic powder or 1 garlic clove, minced
½ tsp mustard powder or 1 tsp Dijon mustard
Juice of ½ lime
½ tsp brown sugar
½ tsp liquid smoke
Pinch red pepper flakes
Kosher salt and freshly ground black pepper to taste
¼ cup diced onion
3 scallions, thinly sliced
2 tbsp minced fresh cilantro
Hot sauce (optional)
2 cups shredded or chopped cooked pork
1 cup shredded sharp cheddar cheese
10-12 (6-inch) corn or flour tortillas
Cooking spray
Serving suggestions:
Ranch dressing
Chipotle ranch dressing
Creamy avocado ranch dressing
Extra BBQ sauce
Sour cream
Extra lime wedges
23. Peach Whiskey BBQ Chicken
by The Pioneer Woman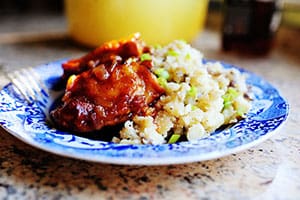 This is a scrummy dish combining peaches, whiskey, and BBQ Chicken. This will impress all your guests with its creativity as well as the delicious blend of all these flavors. Who doesn't like peaches, whiskey, and BBQ chicken? Truly this is the perfect combination for a dish.
Ingredients:
• 12 whole Chicken Thighs, Bone-in, Skin-on
• 2 Tablespoons Olive Oil
• 2 Tablespoons Butter
• 1 whole Yellow Onion, Diced
• 1-1/2 cup Whiskey
• 12 ounces, fluid Barbecue Sauce
• 1 jar Peach Preserves
• 1/2 cup Water
• 2 Tablespoons Worcestershire Sauce
• 4 cloves Garlic, Peeled
• 3 whole Green Onions, Sliced Thin
24. Chipped Ham BBQ Sandwich
by Brown Eyed Baker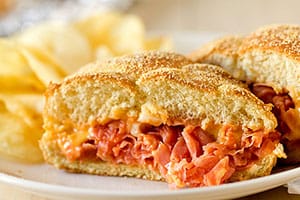 Ham and BBQ are foods everyone seems to love so why not put them together in one sandwich? This is exactly what is done here, after carefully cooking delicious ham and smothering it with BBQ sauce, this sandwich will be your number 1 choice. Yummy!
 Ingredients:
• 2 pounds chipped ham, chopped
• 4 hard boiled eggs, peeled and chopped small
• 8 ounces Velveeta cheese, diced small
• 1 (12-ounce) bottle chili sauce
• 12 sandwich buns
25. BBQ Chicken Braid
by Mel's Kitchen Cafe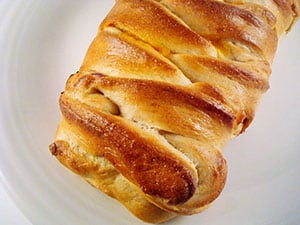 This delicious filling meal is great for the family. It has a very creative appearance as well as an irresistible chicken filling. There is no way you can go wrong with soft bread, melted cheese, and chicken and this is exactly what a BBQ Chicken Braid offers!
Ingredients:
• 1 recipe French Bread Rolls
• 2 cups shredded, cooked chicken
• 1 red onion, sliced into thin half moons
• 1 1/2 cups barbecue sauce
• 1 cup shredded mozzarella cheese
• 1 cup shredded sharp cheddar cheese
26. BBQ Pasta Salad
by Pink Parsley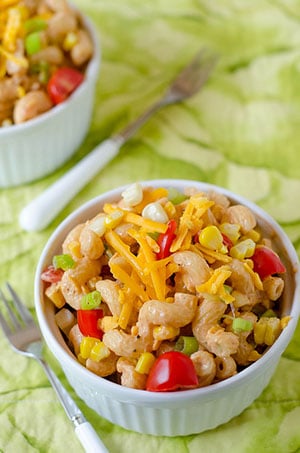 This is a step up from your ordinary creamy pasta salad, adding the BBQ, garlic, onion, peppers, scallions, and a little honey. This creates a great experience and something you can share with everyone. The BBQ Pasta Salad will impress anyone who has their doubts.
Ingredients:
• 1 lb elbow macaroni, or other pasta shape
• Salt
• 1/2 cup diced sweet onion
• 4 scallions, sliced thin
• 2 Tbs cider vinegar
• 1 tsp hot sauce, plus more for serving
• 1 tsp chili powder
• 1/8 tsp garlic powder
• Pinch cayenne pepper
• 2 tsp honey
• 1 cup mayonnaise (light is fine), or any combination of mayo and Greek yogurt to make 1 cup
• 2/3 cup BBQ Sauce
• 3 ears of corn, cooked as desired (roasting or grilling is my method of choice), kernels cut off
• 1 1/2 cups shredded sharp cheddar cheese
• 2 Cups quartered grape tomatoes
27. Roasted Jalapeno Cheddar Turkey Burgers with BBQ Aioli
by How Sweet It Is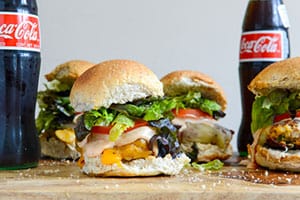 This is a personal favorite and will leave you wanting more. The switch to turkey provides a new experience of different flavors and the spiciness of the roasted jalepenos gives it the perfect spice. The mix with the BBQ Aioli complements the turkey burger nicely and tasting fabulous.
Ingredients:
• 2 jalapeño peppers
• 1 pound lean ground turkey (I use 94% lean)
• 2 garlic cloves, minced
• 2 green onions, sliced
• 2 ounces cheddar cheese, freshly grated
• 1 large egg, lightly beaten
• 1/4 cup panko bread crumbs
• 1 teaspoon salt
• 1 teaspoon pepper
• 1 teaspoon smoked paprika
• 2 tablespoons olive oil
• 4 ounces cheddar cheese, sliced
• 1 ripe tomato, sliced
• 4 lettuce leaves
• 4 whole wheat buns
• BBQ aioli
• 1/4 cup mayonnaise
• 3 tablespoons BBQ sauce
• 2 garlic cloves, minced
• 2 tablespoon olive oil
• 1/2 teaspoon smoked paprika
• 1/8 teaspoon ground cumin
28. BBQ Buttermilk Onion Rings
by Joy The Baker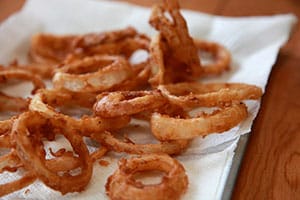 Onion rings are a great side dish for any meal. Here is an upgraded version of your ordinary onion rings adding BBQ Sauce and buttermilk. After trying this mix of BBQ and buttermilk, you will not want your onion rings any other way.
Ingredients:
• 2 tablespoons barbecue sauce
• 1 tablespoon hot suace
• 1/2 teaspoon salt
• 1/2 teaspoon fresh ground black pepper
• 1 large sweet yellow onion
• 2 cups buttermilk
• 2 cups all-purpose flour
• 2 teaspoons salt
• 1/2 teaspoon paprika
• 1/2 teaspoon fresh ground black pepper
• 1 quart (i know it seems like a lot) vegetable, canola or peanut oil for frying
For the Dipping Sauce:
• 1/2 cup sour cream
• 3 tablespoons buttermilk
• 2 tablespoons barbecue sauce
• 1 teaspoon hot sauce
• Two pinches salt
• 2 tablespoons fresh chives, slices tiny
29. South Western Pulled Brisket
by Smitten Kitchen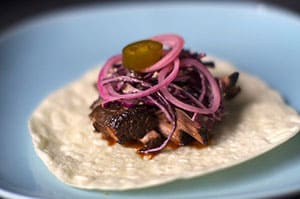 This palatable dish can overwhelm anyone who tries it with its deliciousness.  This is great for holidays and it really brings a south western feel to your dinner table. Enjoy a classic pulled brisket with the western BBQ touch.
• 3 pounds beef brisket
• Kosher salt
• Freshly ground black pepper
• 2 tablespoons vegetable oil
• 5 cloves garlic, peeled and smashed
• 1 Spanish onion, halved and thinly sliced
• 1 tablespoon chili powder
• 2 teaspoons ground coriander
• 2 teaspoons ground cumin
• 1/4 cup apple cider vinegar
• 1 1/2 cups water
• 1 (14 1/2-ounce) can whole peeled tomatoes, with their juices
• 1 to 2 whole canned chipotle chiles en adobo
• 2 bay leaves
• 1/4 cup molasses
30. BBQ Lobster with Sea Vegetable and Potato Salad
by British Larder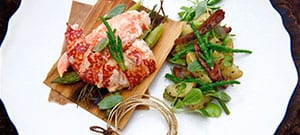 This seafood dish is very intriguing and is one that is very easy to fall in love with. This is the type of dish you cook when you are trying to impress someone, with a lobster steamed and lightly smoked, with the BBQ element. The salads on the sides provide a nice touch, leaving a 5 star meal.
 Ingredients:
• For the barbecue lobster
• 1lb lobster
• 2tbs extra virgin olive oil
• Sprigs of fresh herbs such as savoury, thyme and rosemary
• 2 Cedar wood sheets soaked for one hour in cold water
• 4 spears of asparagus
• For the sea vegetable and potato salad
• 8 boiled new potatoes, skin on
• 150g samphire
• 2tbs sea purslane
• 2 rashers of smoked back bacon
• 2 tbs blanched and popped broad beans
• 1tsp grain mustard
• 1tsp balsamic vinegar
• 1tbs extra virgin olive oil
• Sea salt and freshly cracked black pepper
31. BBQ Rib BBQ Rib of Beef with Forestiere Sauce
by Chef Kevin Aston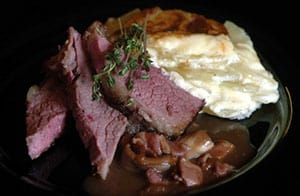 On the off chance that you got any of my BBQ masterclasses around the UK, you know you can cook anything from entire chickens and shoulders of sheep to pizza and cheesecake on a grill – in the event that you know how to control the warmth. For this formula, your BBQ needs a cover and you'll additionally require an expendable aluminum broiling plate. The plate needs to be set underneath the flame broil bars in the center. In the event that your grill is charcoal, put the coals around the plate. In the event that your BBQ is gas, leave the middle gas fly off and put the plate in the center.
Ingredients:
• 1tbsp olive oil
• 1 .5kg rib (3lb) Rib of beef on the bone
• 100g (4oz)oyster mushrooms
• 1 large portabella mushroom
• 125ml red wine
• 30g (1.5 oz)butter
• 1.5tbsp plain flour
• 2 rashers smoked bacon finely diced
• 500ml (1pint) beef stock
• 1 clove of garlic, crushed
• 2 small shallots diced
• 1 level tbsp tomato puree
32. Fire Roasted Low-County Oysters
by Ottolenghi

Consolidate all the fixings in a sustenance processor and procedure until smooth, or add them to a dish and mix to join. Cover and refrigerate for 30 minutes. Heat a barbecue to high. Put the clams in a solitary layer on the meshes of the flame broil and cook until the alcohol starts to stew. Instantly beat every shellfish with a storing teaspoon of the tarragon spread and a couple of additional dashes of hot sauce, if coveted. Trim with tarragon leaves and serve.
Ingredients:
• For the Tarragon and Red Hot Sauce Butter:
• 1 stick unsalted butter, slightly softened
• 1 1/2 tablespoons chopped fresh tarragon leaves
• 1 heaping tablespoon hot sauce
• 1/4 teaspoon sea salt
• 1/4 teaspoon freshly ground black pepperFor the Fire Roasted Oysters:
• 18 oysters, shucked carefully over a bowl, catching the oyster liquor and putting back into the shell with the oyster
• Hot sauce
• Tarragon leaves, for garnish
33. Bacon burger with Avocado Mayo
by Reveal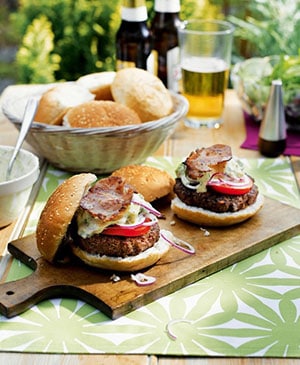 Extravagant something other than what's expected from the standard frankfurters and burgers? We cherish these bacon & avocado mayo burgers – don't they look sooooo tasteful? The bacon must be super firm before covering with your extraordinary natively constructed mayo and avocado dressing for a genuine treat.
Ingredients:
• 400g lean mince beef
• 4 rashers lean bacon
• 2 tomatoes
• 1 small red onion
• 4 burger buns
• For the avocado mayonnaise:
• 2 dollops* Hellmann's Real Mayonnaise
• 1 ripe avocado
• ½ lime
• Pepper
34. Smoked Fish Dip With Spicy Pickled Peppers And Torn Crostini Recipe
by Food Republic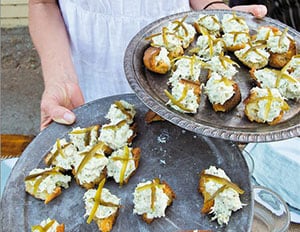 Gourmet expert Ben Ford hosts a slick get-together trap: bolstering everybody with a huge barbecue driven outside dining experience. Many individuals, normally with an entire creature. Gourmet specialist Ford's imposing new cookbook, taming the Feast, is a definitive manual for bad-to-the-bone outdoors engrossing.  Need a simple, delightful and light hors d'oeuvre to hold the group under wraps while the entire pig cooks? These ultra-easygoing crostini — genuinely, don't even cut the bread, simply destroy it, hurl with finely hacked garlic and olive oil and toast quickly in a hot stove — game smoked fish spread and tart, hot salted peppers. It's a match made in flame broil gathering parade.
Ingredients:
• 1 Anaheim chile
• 3/4 pound smoked cod or white fish, skinned and boned
• 1/4 cup aioli or store-bought mayonnaise
• Grated zest and juice of 1 large lime (about 1 tablespoon juice), plus more juice as needed
• 1 1/2 teaspoons fresh cilantro, finely chopped
• 1/2 teaspoon fresh oregano, finely chopped
• 1 – 2 serrano chiles (depending on how spicy you want it), halved, seeded and minced
• 1 small clove garlic, minced
• 1/2 teaspoon ground cumin
• 10 drops Mexican hot sauce (such as Cholula or Tapatio)
• Kosher salt and freshly ground black pepper
• 5 – 6 pickled jalapeños, thinly sliced lengthwise, seeds discarded, plus 2 tablespoons or more of the juice
• 30 torn garlic croutons.
35. Slow Cooker Pulled Pork Recipe
by The Skint Dad Blog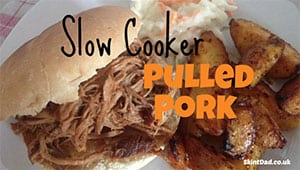 In a dish, blend in the marinade fixings. Include the pork joint and verify it's covered in the marinade. Cover and place in the refrigerator overnight. In the morning, put the pork and marinade into a moderate cooker and cook on low for 8 hours. When cooked, uproot any fat and force the meat separated with forks.
 Ingredients:
• 4 tbsp soy sauce
• 2 tbsp brown sugar
• 1 tbsp Worcestershire sauce
• 1 (small) tbsp white wine vinegar
• 2 tsp paprika
• 1 tsp cayenne pepper
• Shoulder of Pork
36. Italian Chargrilled Lamb Steak
by Chef Kevin Aston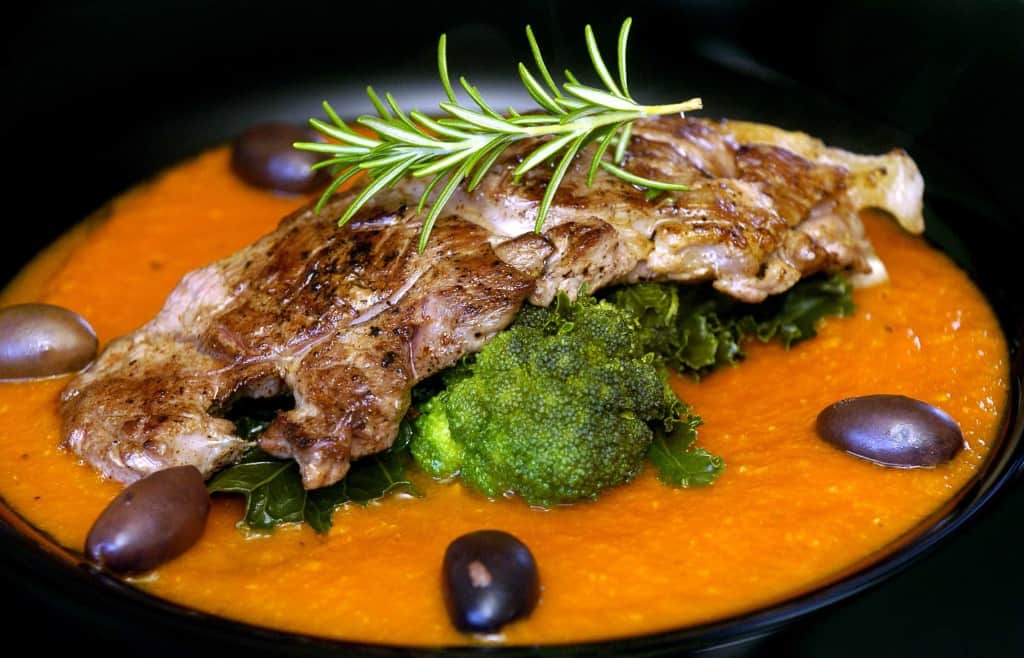 After cooking, spoon up an amount of sauce on each dinner plate place some of the broccoli in the centre and top with the rested lamb. Decorate with a small piece of the remaining rosemary and serve.
Ingredients:
• 4 x 175g Lamb neck fillets or Lamb leg steaks
• 3Tbsp Olive oil
• 3 Large cloves garlic peeled
• 500g Vine ripe tomatoes
• 1 Tin (400g) of chopped tomatoes
• 1 Large red pepper
• 1/2 Large onion sliced
• 250ml Chicken stock
• 3 Small tender sprigs of rosemary
• 24 Coratina or Kalamata olives
• 450g purple sprouting broccoli
Is it not amusing that you can do so much bbq recipes with almost everything available in the market? Now go experiment and enjoy this tasty treats to satisfy any barbecue cravings while the sun is out! Bring out your bbq and put your grilling skills to the test with these amazing recipes.
Resources:
1) http://www.jamieoliver.com/recipes/beef-recipes/dj-bbq-s-world-s-best-meatloaf/#T0o9HfiOB8z7CFAo.97
2) http://www.houseandgarden.co.uk/recipes/main-courses/spicy-steak-rosemary-fries
3) http://bbqpitboys.com/recipes/bacon-beef-steaks-rolls#.VTdwNiGqpBc
4) http://www.seriouseats.com/recipes/2014/06/best-barbecue-beans-recipe.html
5) http://www.redonline.co.uk/food/recipes/maria-elia-lamb-cutlets
6) http://barbecuebible.com/recipe/apple-spice-baby-back-cider-rum-barbecue-sauce/
7) http://www.greatbritishchefs.com/recipes/barbecue-pork-belly-recipe
8) http://www.goodtoknow.co.uk/recipes/534625/green-curry-chicken-drumsticks
9) http://www.deliciousmagazine.co.uk/recipes/swordfish-steaks-with-chermoula/
10) http://amazingribs.com/recipes/porknography/vermont_pig_candy.html
11) http://www.saveur.com/article/Recipes/Barbecued-Eggplant-Miso-Glaze
12) http://www.saveur.com/article/Recipes/Chile-Miso-Chicken-Wings
13) http://leitesculinaria.com/86025/recipes-barbecue-potato-chips.html
14) http://www.sproutedkitchen.com/home/2013/5/28/salmon-skewers-with-cucumber-yogurt-sauce.html
15) http://www.thewednesdaychef.com/the_wednesday_chef/2014/07/cooking-for-hugo-corinne-trangs-korean-barbecued-chicken.html
16) http://www.davidlebovitz.com/2013/08/grilled-vegetables-with-zaatar-vinaigrette-recipe/
17) http://pinchmysalt.com/beef-with-butter-heart-attack-or-heaven/
18) http://www.annies-eats.com/2014/06/05/barbecued-chicken-and-waffle-sandwiches/
19) http://www.twopeasandtheirpod.com/bbq-chicken-deluxe-panpizza/
20) http://www.thekitchn.com/recipe-barbecue-160193
21) http://www.simplyrecipes.com/recipes/barbecued_pork_shoulder_on_a_gas_grill/
22) http://www.smells-like-home.com/2014/04/baked-bbq-pork-taquitos/
23) http://thepioneerwoman.com/cooking/2011/08/peach-whiskey-barbecue-chicken/
24) http://www.browneyedbaker.com/chipped-ham-bbq-sandwiches/
25) http://www.melskitchencafe.com/bbq-chicken-braid/
26) http://www.pink-parsley.com/2012/07/barbecue-pasta-salad.html
27) http://www.howsweeteats.com/2013/08/roasted-jalapeno-cheddar-turkey-burgers-with-bbq-aioli/
28) http://joythebaker.com/2010/10/barbecue-buttermilk-onion-rings/
29) http://smittenkitchen.com/blog/2010/01/southwestern-pulled-brisket/
30) http://www.britishlarder.co.uk/barbecued-lobster-with-sea-vegetable-and-potato-salad/#axzz3Y2AB1O8l
31) https://wannabetvchefblog.wordpress.com/2015/07/05/bbq-rib-of-beef-with-forestiere-sauce/
32) http://www.ottolenghi.co.uk/recipes/fish/smoked-haddock-and-oyster-quiches-shop 
33) http://www.reveal.co.uk/lifestyle/recipes/a505128/best-bbq-recipes-ever-try-this-bacon-burger-with-avocado-mayo.html
34) http://www.foodrepublic.com/2014/06/03/smoked-fish-dip-spicy-pickled-peppers-and-torn-cro
35) http://skintdad.co.uk/2014/08/slow-cooker-pulled-pork-recipe/
35) https://wannabetvchefblog.wordpress.com/2015/06/11/italian-chargrilled-lamb-steak/