Image: Flickr
Nowadays a prawn cocktail is considered "a retro classic" (translation – it is a bit naff). But there is a reason why it was so popular in the 1960s and 1970s – it tastes delicious! With one condition – it needs to be done right.
And the key to getting your prawn cocktail right are the ingredients. Sweet, luscious prawns, crisp lettuce, creamy avocado and piquant sauce need to come together in perfect harmony otherwise your guests will be presented with a limp prawn on a bed of watery lettuce.
How to get your prawn cocktail right
Good quality

prawns

are the key. Ideally you would use large cooked and peeled Atlantic prawns. If you want to go all out, then go out all – no one likes a limp (and usually) watery prawn.
Lettuce – step away from the iceberg! Not only its leaves are huge, it also tastes watery. Gem lettuce gives just the right amount of bite and its refreshing aftertaste is the perfect companion to the prawns and the piquant sauce. Which brings us to…
Marie-rose sauce. Make the mayonnaise yourself. Yes, you can get a bucket full of mayonnaise cheaply at the store. But home made mayonnaise is quite easy to make and tastes delicious (unlike anything shop bought). The recipe asks for ketchup, however if you like a stronger taste of the tomato to come through, add a dollop of tomato puree (some people prefer the sweetness, while others do not).
Remember to season and toss the avocados with some lemon juice to keep them nice and green (it prevents them for going all grey and horrible).
Prawn cocktail recipe
Ingredients
For the Marie-rose sauce 4 tbsp ready-made mayonnaise 4 tbsp crème fraîche (optional) tomato ketchup to taste (optional – for stronger tomato flavour add tomato puree) Tabasco sauce, Worcestershire sauce and brandy to taste 1 tbsp lemon juice 300g/10½oz large cooked, peeled Atlantic prawns
Preparation
For the Marie-rose sauce, mix together all of the Marie-rose sauce ingredients except the prawns in a bowl until well combined. Add more Tabasco sauce, Worcestershire sauce, brandy or lemon juice as necessary, to taste.
Stir in the prawns until coated in the Marie-rose sauce.
To serve
4 Little Gem lettuces, leaves only 2 cucumbers, chopped 3 ripe avocados, skin and stones removed, sliced 2 lemons, juice only, plus extra lemon wedges, to serve large pinch cayenne pepper 50g/2oz fresh chives, chopped 250g/9oz streaky bacon, grilled until crisp, finely chopped To serve – arrange the lettuce leaves, chopped cucumber and sliced avocados in the bottom of four Martini glasses or serving glasses. Squeeze over the lemon juice. Carefully spoon over the prawns and Marie-rose sauce. Sprinkle over the cayenne pepper, chopped chives and streaky bacon.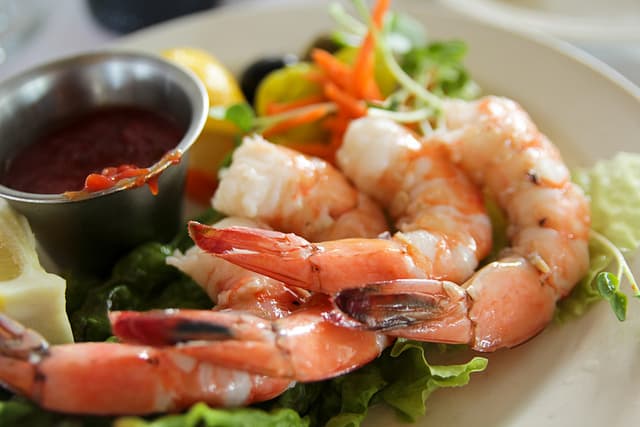 Image: Flickr