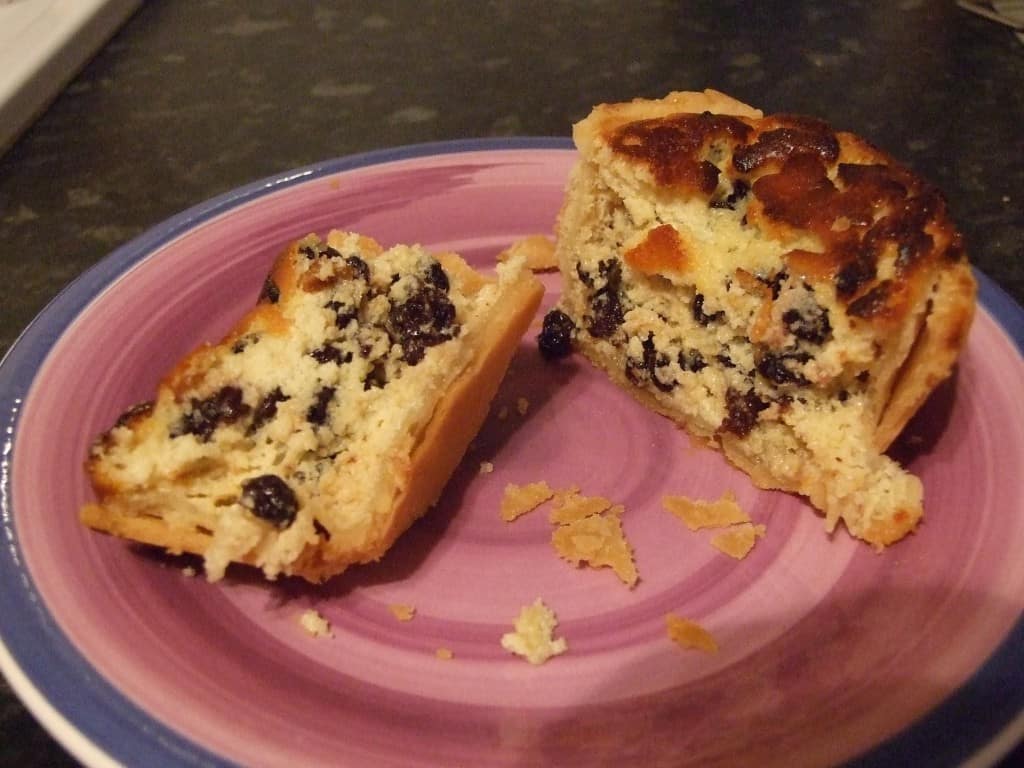 Yorkshire Curd Tart is essentially a very tasty baked cheesecake from Yorkshire.
It is traditionally made with fresh curd so families could use up fresh curd following cheese making.
Typically filled with currants, and egg, the Yorkshire Curd Tart is a wonderful treat for teatime or pudding. 
Yorkshire Curd Tart
Serves 8
Prepare Overnight
Time to Cook : 30 mins to 1 hour
Ingredient
Quantity
For the Filling
Full Cream Milk
2 pints / 1.2 litres
Rennet
2 tbsp
Softened Butter
4oz / 100g
Caster Sugar
2oz / 50g
Beaten Medium Eggs
2
Salt
Pinch
Ground Allspice
¼ tsp
Grated Nutmeg
To taste
Fresh White Breadcrumbs
1 rounded tbsp.
Plump, seedless Raisins
4oz / 100g
For the Pastry Case
Plain Flour
4oz / 112g
Salt
Pinch
Chilled Butter, cut into pieces
1 ¼oz / 32g
Chilled Lard, cut into pieces
1 ¼oz / 32g
Cold Water
¾ – 1 tbsp
Instructions
Step 1 – Make Fresh Curds
Put the milk into a pan and bring it just up to blood heat – 37C/98F.
Pour it into a bowl, stir in the rennet and set it aside somewhere cool, but not in the fridge, until set.
Break up the mixture a bit and tip it into a large, muslin-lined sieve set over a bowl.
Cover and leave somewhere cool to drain for 8 hours or overnight, but again, do not refrigerate.
Step 2 – Make the Pastry
Sift the flour and salt into a food processor or a mixing bowl.
Add the pieces of chilled butter and lard and work together, either in the food processor or with your fingertips, until the mixture looks like fine breadcrumbs.
Stir in the water with a round-bladed knife (or process finely) until it comes together into a ball, then turn out onto a lightly floured work surface and knead briefly until smooth.
Step 3 – Line the Tin
The next day, roll out the pastry on a lightly floured surface and use to line a 4cm/1½ inches deep, 20cm/8 inch loose-bottomed flan tin.
Prick the base here and there with a fork and chill for 20 minutes.
Step 4 – Bake
Preheat the oven to 200C/400F/Gas 6.
Line the pastry case with greaseproof paper and a thin layer of baking beans and bake for 15 minutes.
Remove the paper and beans and return to the oven for 5 minutes until lightly golden.
Step 5 – Filling
For the filling, tip the curds out of the muslin into the sieve and press through with a wooden spoon into a clean bowl.
Cream the butter and sugar together in another bowl until pale and fluffy.
Gradually beat in the curds, eggs, salt, spices and breadcrumbs. Stir in the raisins.
Step 6 – Finish and Serve
Pour the mixture into the pastry case and bake for 20-30 minutes until the filling is set and lightly golden.
Leave to cool, then remove from the tin and serve cut into wedges.