The modern day backyard is a combination of functional and fun (heavy on the fun) whilst also being a space that brings family and friends together. Outdoor spaces have the added benefit of being an extension of your home, so that you can enjoy being outside and put your personal touch on it to boot.
Having a great backyard is also a great way to add value to your home, something we at Modernize are always interested in doing. Whether that be through a stellar landscaping job with a beautiful lawn or great built-in pieces like a cool firepit, create your outdoor space to fit your lifestyle and most importantly, to be a magnet for great memories with the people you love.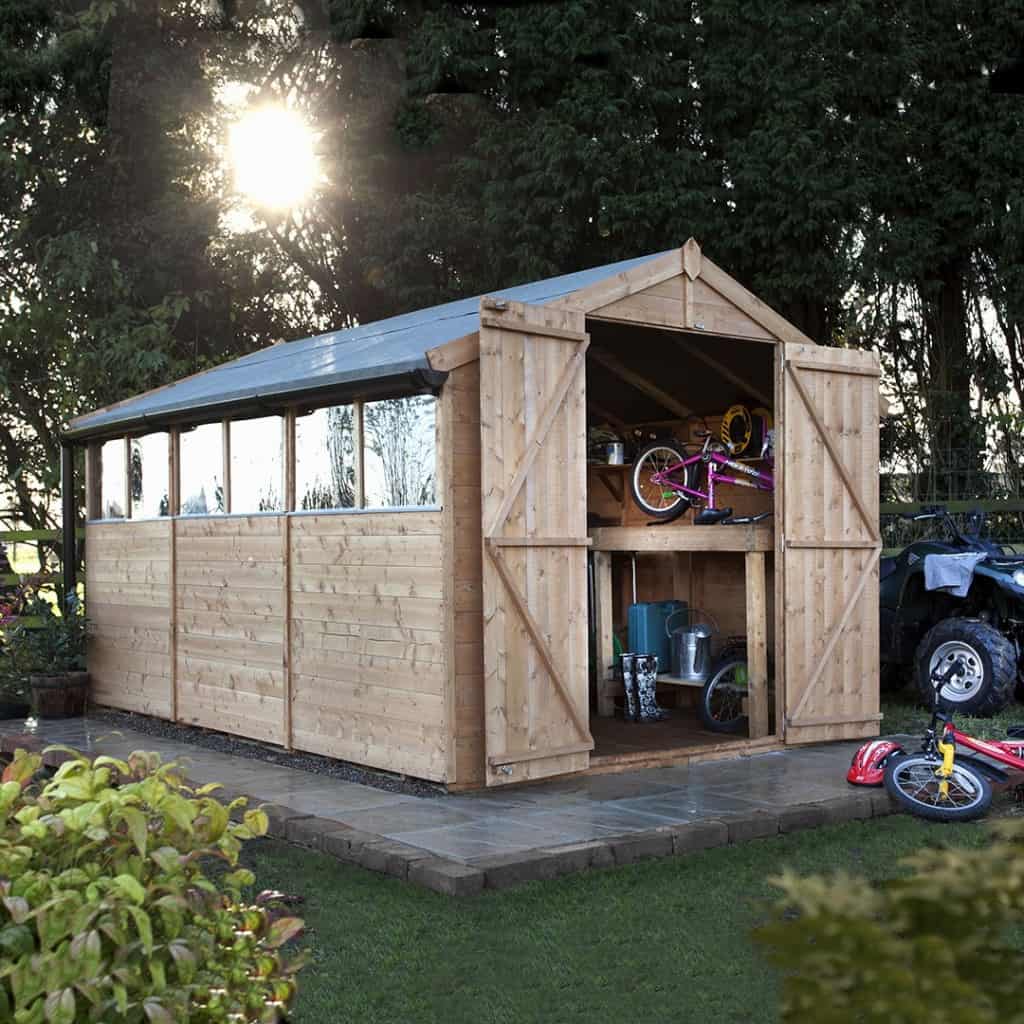 via RedShed
Set Up Shop
Chances are high that if you treasure your backyard, you will most likely be spending some time working in it. This means there are tools, supplies, gear, and plenty of other materials taking up space somewhere, so you'll inevitably need a place to store them all. Create some stylish functionality in your space with a garden shed, like this one from RedShed, that is durable and versatile. The windows let in natural light so that you can clearly see what you're doing and effectively keeps all that stuff out of sight for when you are entertaining with family and friends.
If you appreciate the way that these structures can keep things in your outdoor space contained, consider adding a metal greenhouse to create an edible garden as well. Setting up the greenhouse nearby your shed allows you to move supplies easily from one to the other, making it easy to maintain the edibles, flora, and fauna that inhabit your greenhouse—not to mention you can grow your own produce!
via Modernize
Fire Things Up
Now that you've set up your backyard as a functional working space, you can start dreaming up the fun part, or as we like to think of them: the essentials. With a greenhouse and garden shed waiting patiently to be used, adding a barbecue to cook up your vegetables from the garden and a firepit for late night bonfires with friends will add both financial and entertainment value to your home. Keep in mind the design of your outdoor space will also include a patio table and chairs, so situate both the barbecue and firepit nearby your dining area to encourage an easy flow for guests.
Setting up your backyard with designated spaces for both fun and functionality guarantees that it will be used well and often. So take enough time to consider your options, needs, and wants to customise a backyard that suits you perfectly.