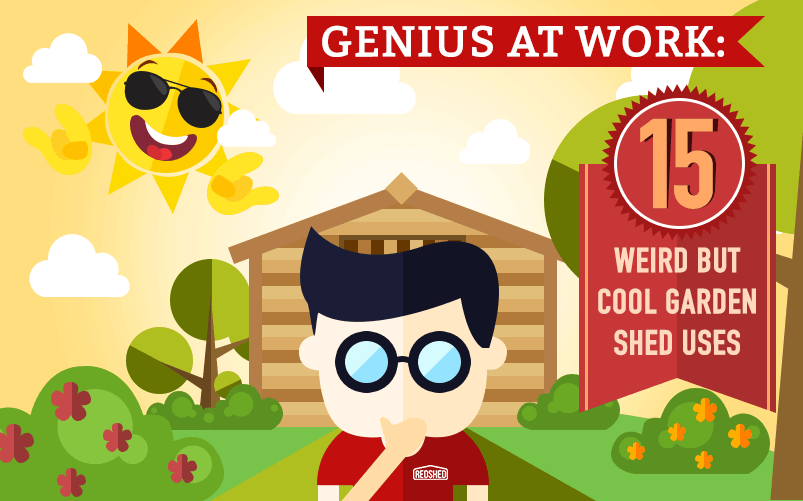 These people definitely know how thinking outside the box works. From ordinary-looking garden sheds, these awe-inspiring shed pieces will definitely blow your mind.

• John Gardner built a railway carriage with two friends using part of a garden shed.
• Insulated with plasterboard, the interior and exterior with its domed roof is similar to a railway carriage.

• Stephen Mason claims to have the longest model train set ever built in a confined space.
• Uses small garden shed to house the collection he has amassed over many years.

• Ken Oliver brews his own beer in his garden shed.
• It features a modern microbrewery system including stainless steel vessels.

• Fitting small swimming pools inside garden sheds is increasing in popularity.
• Costs are much cheaper in comparison to conventional pools.

• Many DIYers set up spray booths inside their garden sheds.
• Provides a dry shelter from the elements, perfect for spraying.
• Matthew Hawton created a fully-functional vinyl record shop in his garden shed.
• Has uPVC window and door.

• "BarCode" is a nightclub built out of a 10 foot x 10 foot garden shed.
• It includes disco lights, sound system and 42-inch plasma TV screen.

• Henry Posner created a fully-functional office from his garden shed.
• Garden offices are growing in popularity across the globe.

• Garden sheds provide the perfect secluded place to play computer games.
• Many are converted into fully-fledged out-buildings.

• Garden sheds offer the right size for setting up the ultimate Scalextric race track.

• Colin Miles, a lover of Chinese architecture, has built his own Chinese temple.
• The shed is painted in traditional Chinese colours and accentuated with Chinese calligraphy.

• Floating on a river, this boat shed contains an engine and steering wheel.
• The floating boat shed is complete with tables, chairs, and bed and can be used for relaxation.

• Derek Verlander spent almost three decades to put up his own tea house.
• The house features tea and coffee-making equipment as well as fish tank and fridge.

• DJs Paddy Bickerton and Aidan Larkin put up a disco shed that plays at festivals and weddings.
• The shed is complete with smoke machine, disco ball, record decks, and lighting.

• Ian Hunter built a teapot-shaped shed from recycled materials and use it for drying timber.
• The upper part of the shed can be accessed through the steps found in the teapot handle.
 Contributing Author: Charles Walton