They are symbols of honour, strength, glory, and power. You see them in flags, seals, coins, and almost all things admirable. Having wingspans longer than the height of the full grown man, they fly like they own the skies. And why not? They are regarded as the king of the skies and the largest birds in the world. They are eagles.
Why are Eagles regarded as the King of the Skies?
A common trait among all birds of prey is that before they grab their preys, they check their backs to see if other birds of prey is on their tail. Except eagles.
---
Largest Eagles in the World
---
White-Tailed Eagle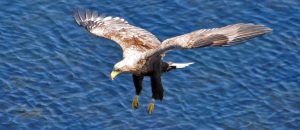 White-Tailed Eagle are the closest cousins of bald eagles. They are commonly found near bodies of water on Europe and Asia. Their main diet consist of other sea gulls, fishes, geese, etc. The list goes on. 21 years is their average life span.
---
Martial Eagle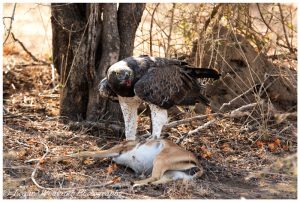 Martial eagles are found in parts of Africa. Though their eyes are as large as humans, their eyesight is roughly three times better. They can lock in on a prey 5 to 6 kiloemtres away. What is unique with this eagle is that it rarely squawks, even when mating season. Their diet consist of venomous snakes, monitor lizards, deers, and wild cats.
---
Harpy Eagle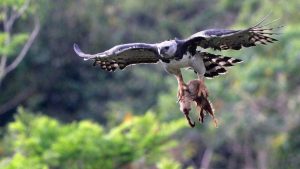 Also called as the American Harpy Eagle, these birds are the kings of rainforests. They precede their name's reputation that translates to, wind spirits. Though jaguars find them tasty, they prey mainly on tree-dwelling animals like monkeys of all sorts and sloths. On occasion, they eat animals they find near rivers like deers and capybaras.
---
Steller's Sea Eagle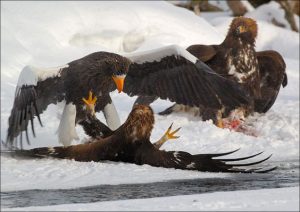 Steller's sea eagle mainly feed on fishes. They are mostly solitary birds-kind of like the sky equivalent of lone wolves. Due to their unusually largers beaks, other eagles are going to be a part of their diet if they don't see any gulls, foxes, squids, or deers.
---
Golden Eagle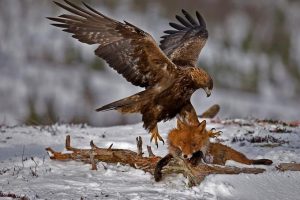 The Golden eagle, king of Northern Hemisphere, are arguably the most popular among all eagles as they are always chosen as national birds. They are territorial in nature and humans love them because they can co-exist with them mutually. Centuries way back, hunters used them to track and kill wolves that take their livestock. And if they can hunt wolves, they can also hunt animals smaller than wolves.
---
Philippine Eagle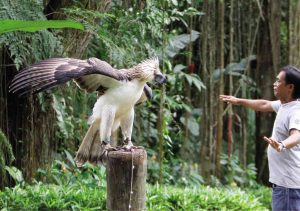 Also known as the Monkey-Eating Eagle, Philippine Eagles are arguably the largest eagles in the world on average ratio of height, weight, wingspan, and beak-to-tail length. They are also one of the rarest eagles mainly because their habitats are destroyed. They are endangered, but reports of missing goats, mountain deers, and the monkeys not over-populating means that there is something that levels off food chains in the Philippines.