When observing people around you, you will often spot someone, if not more than one person, using a fountain pen. This is becoming particularly noticeable in the recent years. But why are fountain pen sales rising?
A fountain pen is a type of Nib Pen that utilises an internal reservoir of liquid ink. The first patent of the fountain pen was in 1827 by the Romanian inventor Petrache Poenaru. During the 1940s and 1950s fountain pens were the most popular type of pen. However, when the 1960's came along ballpoint pen refinements meant that the ballpoint became the most popular pen.
Considering this, why are fountain pen sales rising today? Fountain pen users have to regularly replace the ink and are required to clean the pen often. Therefore you would think this would put people off writing with them. However, this is not the case.
For many, fountain pens allow for memories of their school days to come flooding back. Ink-covered fingers, smudged writing and using blotting paper can cause people to be drawn back to using a fountain pen.
Whereas, the technology that is making physically writing unnecessary can be a reason to return to using fountain pens. Similar to that of the recent increase in Vinyl sales, doing things the old school way is considered fashionable to some.
We recently spoke to DrPen.co.uk to find out the advantages of fountain pens and what could be causing the rise in fountain pen sales.

Advantages of fountain pens
Smooth Writing Experience
Many people often ask how to use a fountain pen. The answer can often be the deciding factor. Fountain pens are known to offer a smoother writing experience than other pens.
This is thanks to the polished metal contact point between the pen and the paper. The ink flowing out of the pen causes this smooth writing action. Similar to painting with a paint brush.
---
Longevity
Fountain pens require slightly more care and attention than your regular ballpoint. However, fountain pens are likely to last much longer than the other types of pens. This is as you can always replace ink cartridges. Therefore, as long as you have ink to hand, your pen will never run out.
If your fountain pen begins to clog up, they can easily be flushed out. Place them in either tap/distilled water or in a diluted ammonia solution to effectively do this.
---
Tidy
Pencil cases full of biro or ballpoint pens are a common item for those who write regularly. Having a full pencil case ready for when your current runs out is a common thing. Or even a pen pot on your desk that can cause pens to dry out when not being used.
This is where fountain pens are great. As per the previous point, fountain pens are likely to last a large number of years. This means there's less need for a pencil case full of pens.
---
Large choice of ink colours
When looking at the ink colours offered by the popular fountain pen brands of today, there is a good chance that every colour you could think of is available to you. For instance, Caran D'Ache offers 12 colours in their Chromatic Ink range from Delicate Green to Electric Orange. It would be surprising if there wasn't a colour suited to you.
Similarly, if neon is more your thing, Lamy provide both Neon Coral and Neon Lime if you're looking to make your writing more colourful.
You can get ink via either an ink cartridge or an ink converter. Ink Cartridges are small disposable capsules that you can easily replace. Ink converters require an ink bottle which can get messy and be hard to transport.
---
Plenty of styles to choose from
Whether you're looking for a modern style pen such as the Lamy Al Star or a more classic looking pen similar to the Pilot Capless Wooden, with the number of fountain pens on the market today chances are you will easily find the perfect style for you.
---
Individual Expression
Besides the number of different ink colours or the style of the fountain pen itself to choose from, fountain pens allow for individual expression through the nibs themselves.
Fountain pen nibs come in three basic shapes which include round, stub and italic. With round nib being the most popular as it can easily provide a fairly straight line when writing. Whereas stub and italic nibs are better suited to those interested in calligraphy.
Although 3 basic types of nibs, there are then sub categories of nibs. For instance, when looking at the Lamy Z50 polished Steel Nib you are able to get this in either Fine, Left Handed, Medium or Italic 1.5mm. Working out which nib is best suited to you can get difficult and confusing, if you need help check out our Lamy Review which outlines the features of each nib.
---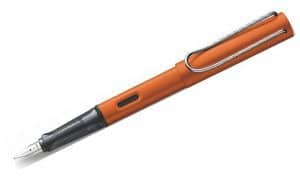 Conclusion
When you take into consideration the choices of colours, styles available and the longevity of fountain pens in general, it is no surprise that fountain pen sales are rising.
Whether it is to relive being back at school or even just to have a smoother more enjoyable writing experience, fountain pens can be a great investment.
If you are looking to venture into the fountain pen world, after lots of research we suggest trying the Lamy Safari as not only is it at a reasonable price, it is durable and is available in a wide range of colour options. You can read our full review here.
If you are unsure whether fountain pens are the best option for you, take a look at our Ultimate Guide to Pens.