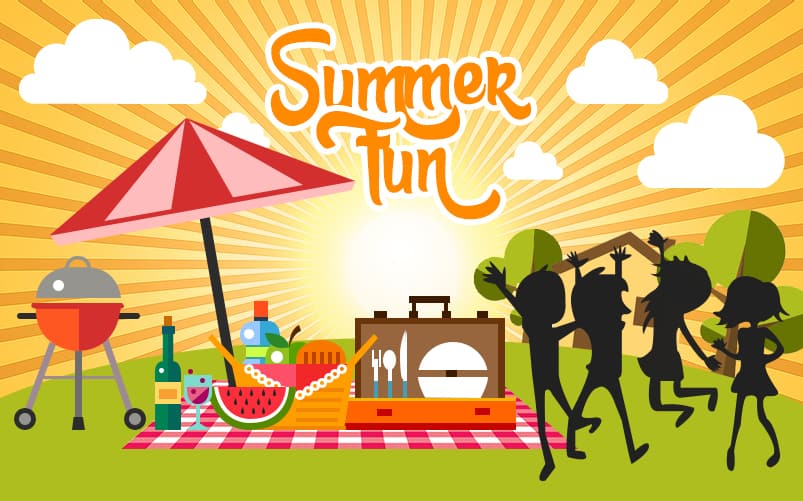 The sun is out, you're in your room and probably wondering what the best way is to make things more interesting. I feel you, mate!
But how's this for an enjoyable summer activity?—barbecues, cocktails, and good music….right? In the comfort of your own al fresco, no less! Now that's interesting!
A better way to spend the summer without wandering around places is by having it right in your dolled-up garden. It doesn't have to be costly. After all, a perfect weather calls for something fun, without punching a hole in your pocket.
Take a look at this list of cool ways to make your outdoor party easy-breezy and stress-free!
1. Bug-free is key.

First order of business:
Bugs. Don't get me wrong, bugs are totally adorbs (with an exception of a few such as, ugh, mosquitoes). But if you'd like to have a great time with your family or friends, then the first thing you need to do is ward off bugs. You can keep sunscreen and bug sprays around. But if store-bought chemical insect repellents are not an option, you might want to try using natural repellents such as cedar blocks, citrus peels, or lemon eucalyptus oil.

Top hack: To shoo bugs away, cut lemons in half, mix them with cloves, and put them in martini glasses. Put one glass on each table to drive those insects away.
2. Keep your drinks cool

A party is never complete without refreshing drinks to cool your guests down in and between dances or chitchats.
Top hacks:
To steer clear from the usual ice meets bucket type of storing beverages, you can chill them in a container filled with frozen water balloons. You can also serve them in a wagon filled with your frozen balloons.
Instead of plain ice, you can use frozen fruits such as berries. This way, your drinks won't get watered down. Not only that, the fruits add an extra oomph to your drinks!
To keep your drinks such as punch cool for long hours, you can use large ice blocks.
If you're staging a big party and more drinks are required, you can use an inflatable pool to store your bottled or canned beverages. Just fill up the pool with water, throw in big chunks of ice and your instant booze container is all set!

3. Food stations
Great food makes up at least 60% of a great outdoor party. I mean, parties are food havens! If you don't serve mouth-watering treats, then more than half of what the party is all about gets to the bottom percent that is "complete waste". Not to worry—I got you covered!
Instead of keeping the food in one long table, you can have food stations where each of the stations has their own theme: Desserts bar, refreshment station, burgers, hotdogs section, barbecues for your friends and family, and oh, a nachos bar! Confession: I love nachos!

Top hacks:
If you're not a fan of double-dipping, then you can serve nachos or any other treats served with dips in individual cups.
For chopped fruits and salads, put each serving in nicely-printed individual plastic cups. To make things much cooler, you can use ice cream cones or nacho cups as edible fruit salad containers!
You can use bell peppers as a more delicious alternative to plastic sauce dispensers. Just cut them open, hollow them out, and pour the sauce over. No sweat, all fun!
You can serve ice cream bars with cupcake liners for that messy-free ice cream treat. If you're serving ice cream in cones, put a small marshmallow right in the bottom of the cone to prevent the ice cream from leaking out. That's one delish stopper right there!
For when grilling burgers, use ketchup to write the names of the guests on the food so they'll know who gets what. You can also indicate the doneness of the grilled meat (depending on the preference of the guests) by writing on the meat using ketchup or mayonnaise. Use squeeze bottles to make the words readable.

4. Perfect set up!
You're now done with the food.
Next up: your party area. You have a considerably big outdoor garden with probably a few tables and chairs, a wooden playhouse or shed, and a lone worn-out parasol. With these cool ideas, you'll probably want to host parties every now and then!

Top hacks:
For your party tables, you can use colourful gift wraps as table covers. Not only do they make the tables look fancier, they can also turn into instant garbage bags. When the party is over, take all the utensils off the table, pull the wrap, fold it over, and throw it straight to the garbage can. Easy work, mate!
If you're planning to have the party at night, wow your guests with cool lighting by using mason jars as candle holders. If it's a black light party you are hosting, bring fun into the event by adding a little tonic to any beverage and voila! You now have a nicely-lit glowing party!
If you have a lot of guests and only have a few chairs, you can bring out pillows or blankets and lay them on the garden area. When it's time for the games, you can easily clear the area.
To keep your party area clean, place garbage bags around the area. For that easy post-party cleaning, use disposable paper cups and plates.
5. Good music

Have you ever attended a party without music? Yes? Boo. Booooring!
If you want your party to be fun and memorable, serve it with good music. Take out those dusty records and bring life to the party!
Top hack: To amplify your phone, you can place it in a glass or cup.  Or if you have anold tissue roll, you can amplify your music player by cutting a line through the roll and putting your phone or music player right into the slit. Just be sure to put it in a secure and sturdy surface so it won't fall off.
6. Extra fun details

Parties are where your inner crazy can get extremely useful! To have that fun-filled party, you might want to throw in some cool details such as strung up paper cutouts or flaglets. Depending on the type of party you are throwing, the ideas are limitless!
Top hack: If you have photo-crazy guests around, you can hang a giant picture frame made out of wood. Whip up cool masks and headdresses to have that fun makeshift photo booth!
That's it! You're now ready to host a stress-free party. Now that you have all the ideas for that dream outdoor party, all you have to do now is get off that bed, call your friends and family, and party till you drop!