As flat screen TVs get thinner, the more space for its internal parts become compromised. If you purchase a large TV with 4K Ultra HD quality or HDR colour, you would probably place it far from the couch or bed so you can get a good view of the screen – and the farther it is, the more you won't hear the sound. Flat screen TVs are integrated with tiny speakers that won't be able to provide the best audio possible.
Thankfully, TV Soundbars are now available to give you better sound while watching TV. If you haven't heard of these before, let me enlighten you a little bit about them.
What are TV Soundbars?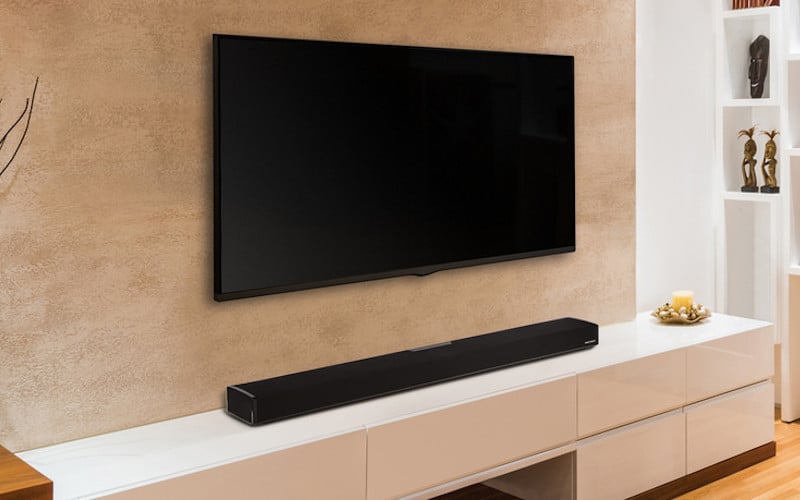 Contrary to what most people think, TV Soundbars aren't similar to surround sound systems. There are quite a lot of differences between the two, and in my own opinion, I would prefer Tv Soundbars. The reason behind this is because is that they are more cost-efficient and they can save more space. TV soundbars are composed of one or two speakers contained inside a long and slender cabinet, so they project sound to a central point, while surround sound systems require multiple speakers that give off sound to different directions.
TV Soundbars provide high-quality audio with the use of a long cabinet, but some soundbars can be accompanied with subwoofers to create deep bass and make watching even more entertaining. They work like an all-in-one surround sound system wherein you won't have to deal with a lot of cables to be able to use it.
But my TV's audio sounds fine..
They may be good enough, but they're not at their best. You may have purchased an expensive TV with a crystal clear display, but there's a high possibility that its speakers are either pointing down or away from your direction which can lessen sound quality. This means your TV's audio is not providing you with the most excellent audio possible.
While if you're not really fond of watching movies and you don't feel like you need a TV Soundbar, how about when listening to music? Most smart TVs are already capable of streaming music and doing other activities, so better sound quality is always a good idea.
Some TV Soundbars also offer Bluetooth connectivity so you can play music directly from your smartphone or any Bluetooth capable device.
So, what's the point?
TV Soundbars aren't perfect, and they also have some flaws. However, these devices help you make the most out of your TV whether it's the most expensive or not. They project the sound directly towards you so you can get a better viewing experience.
It's a smart investment for the whole family as you can all enjoy a movie night with excellent audio quality that can make it feel more realistic. There is a wide range of TV Soundbars available on the market today, and it can be difficult to choose which one will work best for you.
Here's a quick buying guide to make sure you get the right TV Soundbar for you:
1. Active or Passive Soundbar?
The first and most common type of soundbars nowadays is active soundbars. These active soundbars already have built-in amplifiers, so all you have to do is directly plug them into your TV or wherever you want, and they're good to go. The other type is the passive soundbar which is almost a vanishing type, requires a separate receiver and is quite harder to set-up.
Although active soundbars are more preferred, passive soundbars also give off a good audio quality so it's best also to check out this type.
2. Where Do You Plan to Put Your Soundbar?
Before buying a TV Soundbar, you should already know where to place it so that it would help you narrow down your selection. If your TV is mounted on the wall, you can put the soundbar below it to create a neat and organised look. However, you have to consider where you'll be hiding all the cables that come with the soundbar. Otherwise, if your TV is placed on a stand or cabinet, it's best to place the soundbar in front of it. But make sure the stand or cabinet fits both devices well so would look nice and make sure that they won't fall off.
Sound bars come in a range of sizes, and you pick one depending on the size of your TV as well the room you're going to place it in.
3. Confusing numbers
With any audio device, you have already encountered those confusing numbers like "2.0," "3.1," or "5.1." To make it all clear for those who don't know what these numbers mean, the number before the period pertains to the number of drivers(channels) a soundbar has, while the number after the period indicates whether the soundbar comes with a subwoofer or not (0 or 1). So, when a TV Soundbar says its "2.0", it means it has two channels, so it has two drivers (left and right), and so on.
TV Soundbars mostly come with wireless subwoofers, so you don't need to connect them to the soundbar, but they still require a power source. In that case, you have to place the subwoofers near the mains or find a way to hide them yet still being able to hear them doing their job.
You can check out our list for the Best TV Soundbars for 2018, and you might just find the perfect soundbar for you.