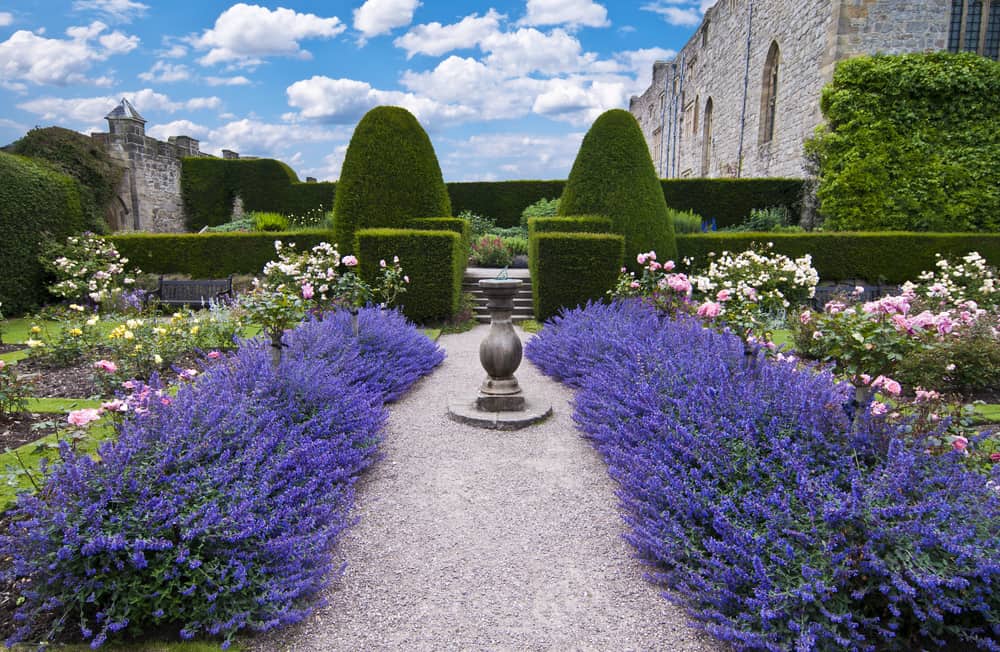 Brief History of Plas Brondanw
This garden was built by John ap Hywel in 1550 and was given to Sir Clough Williams-Ellis by his father in 1902 and it became what he called "a passion, and obsession if you like". Plas Brondanw with its gardens is located within the Snowdonia National Park, near the village of Garreg, Gwynedd, Wales. It is not as famous as his Pormeirion Village, but many people consider it to be Clough's most wonderful creation.
His dedication in taking good care of Plas Brondanw has continued until his demise in 1978 at the age of 94. His first additions to the garden were made from 1911 to 1912 and added the amazingly proportioned orangery that looks out across the former estuary, but work was curtailed by the outbreak of the First World War .In 1915, Clough married Amabel Strachey and when the war was over the Plas became a family home.
Today, the gardens of Plas Brondanw are open to the public. Annually, almost a quarter of a million people visit the garden.
Framed Landscape 
Plas Brondanw's geometry was largely determined by the dramatic surrounding landscape. Sir Clough created two main axes, both of which align with the mountain, and at many points throughout the garden the peak has been artfully framed. One of the most striking features of the garden is the cross axis that bisects the topiary allée, leading to a raised circular terrace known as the Apollo Belvedere. The statue of Apollo that was housed there was stolen many years ago. Scarlet-flowered Tropaeolum speciosum (flame creeper) scrambles up the topiary columns.
To the left the view is funnelled by high yew hedges that terminate with a wall containing three verdigris-coloured niches with a central figure flanked by two classical busts. Opposite, the arrangement is mirrored by a hedge with three arched apertures that line up with Moel Hebog.
Plas Brondanw was never meant to be a garden of flowers. Clough's botanist granddaughter Menna Angharad , who still has a studio at the Plas, remembers that her grandfather wished only some splashes of colours around the garden. Around four years ago Russell Sharp was appointed Gardens Manager of Portmeirion and Plas Brondanw; he made one of his first tasks a complete overhaul of the dilapidated nursery at Portmeirion, enabling commercial plant production.
Facilities
• Free access for RHS members
• Parking
• Disabled access
• Picnic areas
• Cafe and Restaurants
 Nearby Gardens and Historic Attractions
• Portmeirion Gardens (6 kilometers away)
• Parc Glynliffon (20 kilometers away)
• Gwydir Castle (25 kilometers away)
• Plas Newydd Garden (28 kilometers away)
• Plas Tan-Y-Bwlch – 2.6 miles (Garden)
• Dinas Castle – 4.3 miles (Castle)
• Bryn Cader Faner – 4.7 miles (Prehistoric Site)
Further Information
Address: Menna Angharad, Plas Brondanw, Llanfrothen, Gwynedd, Wales, LL48 6SW
Admission: £1.50 for Children and £4.50 for Adults
Operation Hours: 9:30am to 5:30pm daily
Telephone Number: 07880 766741