The 6 Best Smartphones for 2018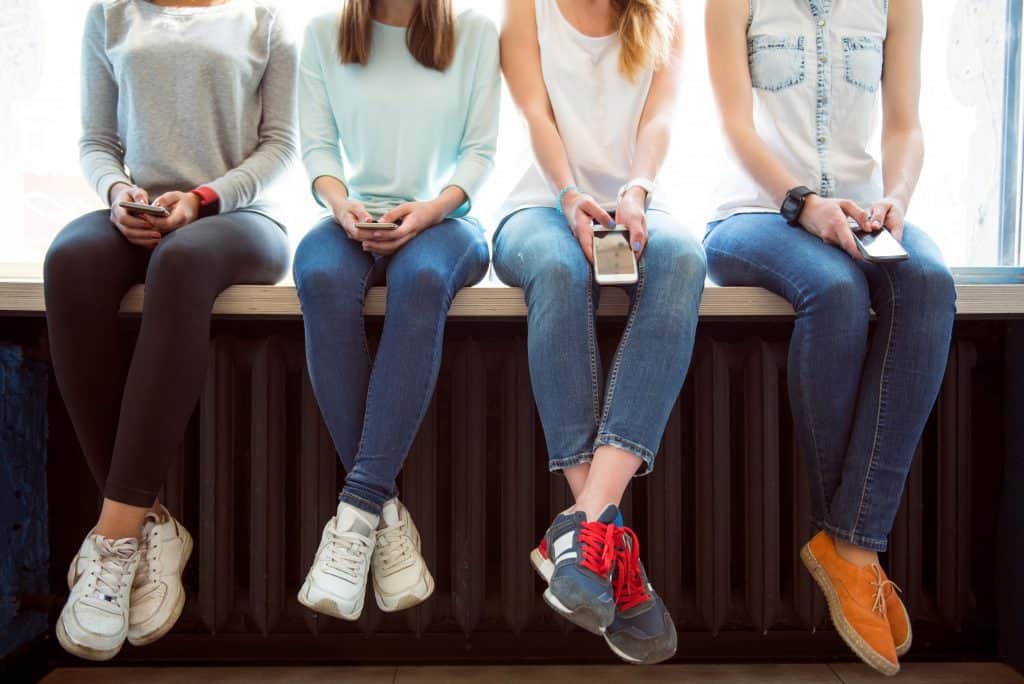 For every smartphone released, more features and functionalities are integrated that make each model unique. And this time, we've rounded up the best smartphones for 2018 that you could consider before you finally decide to upgrade. These smartphones are rated based on their functionalities and their price points, to make sure you get only the best from your hard-earned money.
Last update on 2023-01-04 / Affiliate links / Images from Amazon Product Advertising API
---
"Anything can change because the smartphone revolution is still in the early stages."– Tim Cook
This quote holds true given the tech-savvy generation we are in. From the humble beginnings of capturing images, to the most advanced features today, smartphones have come a long way.
Most people consider their smartphones as a necessity, this is because of the convenience they can bring into our lives. Phones can be used for communicating, ordering food, shopping for clothes and even looking for your one true love.
However, in this fast-paced world, it's hard to keep up with technology. Nothing's more frustrating than buying a new smartphone to then learn that a newer, better version has been released. In fact, there were a large number of new smartphones released in 2017, so we can expect even more for 2018. With the iPhone X being the most popular, there are other smartphones that also offer unique functionalities that you might appreciate.
---
Our Best Smartphones for 2018
---
Last update on 2023-01-04 / Affiliate links / Images from Amazon Product Advertising API
Retina HD display with True Tone technology, wide colour gamut, and 3D Touch
Durable glass finish (front and back)
Wireless Charging
Water and Dust-Resistant
Apple is really stepping up their game with the release of the iPhone 8. It has a 4.7-inch Retina HD Display which can give you an excellent experience when streaming videos or playing games.
To protect your eyes from harm, this iPhone is integrated with True Tone technology. The technology automatically adjusts the colour temperature of the display on your smartphone depending on your current environment. Meaning if you're in the dark, for example, it'll lessen the harsh blue tones to shield and protect your eyesight.
The main camera of the iPhone 8 is similar to the earlier version, the iPhone 7, as they both have a 12MP sensor, built-in f/1.8 aperture and optical image stabilisation. However, the video quality in the iPhone 8 is double that of the iPhone 7 with the option to record at 4k, 60fps, or even when taking a slo-mo video at 1080p at 240fps.
The battery life promises 14 hours talk time and with the wireless charging feature, you won't even need to find the slot to insert the charger.
---
Last update on 2023-01-04 / Affiliate links / Images from Amazon Product Advertising API
AMOLED Full HD 1080p Screen
12.2 MP Rear Facing Camera with dual-pixel autofocus Google Lens
Android Oreo(8.0)
Water-resistant
The Google Pixel 2 boasts its dual-pixel autofocus camera which combines 2 cameras in one smartphone. It's said to capture great photos even in low light and will, therefore, satisfy those who prefer taking quality photos with their smartphone. It's made of metal and glass which is a trademark of Google phones, and it's even waterproof!
Although it doesn't have a headphone jack, which means you will need a Bluetooth headset, Google has included two front-facing speakers, both with clear sound. With a 5″ screen, the lightweight Google Pixel 2 is easily held with one hand. It has a bright and clear display with a full HD 1080p screen.
---
Last update on 2023-01-04 / Affiliate links / Images from Amazon Product Advertising API
5.8" QuadHD + sAMOLED display
Water and Dust Resistant
Dual Pixel 12MP Rear-Facing Camera with 8MP front camera
Facial Recognition Security Feature
The Samsung Galaxy S8 looks very sleek at first glance. The phone is a full display meaning there are no physical buttons available on the front. However, the power button and volume controls are still on the right and left side respectively.
Unlike other brands, Samsung didn't remove their headphone slot, a 3.5 mm audio port sits at the bottom of the phone along with speaker grills and charging port.
The maximum screen resolution of the Samsung Galaxy S8 is very large measuring 2,960 x 1,4440 pixels (WQHD+) which can be adjusted to full HD+ (2,220 x 1,080) or to its lowest resolution at HD+ (1,480 0x 720 ). The AMOLED display is responsible for vibrant, high contrast and rich colours on the screen.
Additionally, the camera is something to look forward to in this smartphone. Expect great quality selfies even when in low-light with its 5MP to the 8MP camera that also features a wide field of view.
---
Last update on 2023-01-04 / Affiliate links / Images from Amazon Product Advertising API
QuadHD+ display
5.7″ Full Vision Display
13MP Dual Rear-Facing Camera
Dust and Shock Resistant
The widescreen on the LG G6 proves that this South-Korean brand really keeps up with the fast-paced innovation of technology. The 18:9 display gives the user more space to complete their tasks, and the Quad HD display with a 2,880 x 1,440 resolution shows vibrant and crisp colours.
It also features a Gorilla Glass 5 on its rear and a Gorilla Glass 3 on the front, making it look very sophisticated along with a metal build. The power button of this smartphone is located on its rear part and is powered with a fingerprint sensor. If you're curious about its camera, it comes with two 13MP rear-facing cameras that can capture photos up to a 125-degree angle.
---
Last update on 2023-01-04 / Affiliate links / Images from Amazon Product Advertising API
Ample 6.3″ Infinity Display
12 MP Dual Lens Rear Camera
S Pen
Water and Dust Resistant
Every Samsung Note Series comes with a 4-inch S Pen so this feature isn't very new to the market. It's a very useful tool especially to those who maximise the use of their smartphones with editing photos and videos. The stylus can help you reach into the smallest spaces which is great if you're particular to details.
The Samsung Galaxy Note 8 is said to almost feel like a mini tablet because of its Infinity Display where the spacious 6.3″ screen slopes off to its sides. Though it sounds too large to handle with one hand, you'll be surprised to know that the phone is still comfortable enough to scroll onto it with just one hand.
The AMOLED display manages to show rich colours and make the whites even whiter. The screen can be adjusted to a full WQHD+ that makes text look very sharp and high-resolution photos look even better, not to mention watching Netflix and Youtube would be fantastic when set in this mode.
---
Last update on 2023-01-04 / Affiliate links / Images from Amazon Product Advertising API
Face ID Security Feature
Wireless Charging
Glass Coated Front and Rear
5.8″ OLED Display
On-Screen Controls (No Buttons)
This model is the latest release from a brand that claims that they are the future of smartphones. The Apple iPhone X (which is read as iPhone 10) is a new experience that's far from the usual iPhone models that we know about, the home button isn't anywhere to find near this smartphone. The 5.8″ screen is integrated with OLED technology which makes blacks even darker and whites even more blinding, meaning you get to see better graphics and text.
With Face ID, you can unlock your phone and even pay your bills with a verification of your facial features. It's said to be so accurate that it can't be fooled and can even detect your face when you're wearing eyeglasses or other face accessories. It has dual 12 MP cameras on the rear which will definitely take excellent photos even in low-light surroundings.
The iPhone X is powered by an A11 Bionic chip that's a six-core processor, which means its ridiculously fast. For a fun experience, Apple has included the Animoji wherein you can animate emojis through the Face ID camera, which is said to be addictive. As let's face it, it isn't every day that you can turn yourself into a unicorn!
Conclusion
---
After going through each of these amazing smartphones, it's now time to evaluate which one of them is the best.
We hope you all agree that the best smartphone for this year 2018 is the iPhone X. It brought a new face to the usual iPhones that we know of, not to mention it's packed with advanced features and a very secure Face ID functionality. Apple is known to produce very durable and reliable smartphones that operate on their own iOS system. It's simple to use, yet it looks sleek and it serves its purpose of being a "smart" phone.
---
Things to Consider Before Buying a Smartphone
---
Design and Build Quality
The design of a smartphone shouldn't be compromised with its durability. Usually, they are built with metal or plastic materials. Some of the latest smartphones have glass-coated panels which mean you need to be extra careful with them because they're fragile. No matter how sleek the design of a smartphone, make sure it's made from durable material that's sure to last. It's more advisable to get metal covered phones than plastic and glass-covered panels.
Screen Size and Resolution
It's not always necessary to buy a smartphone with a bigger screen. If you want a phone that can be held with one hand but you have smaller hands, bear in mind that the bigger the screen, the bigger the device. If that's the case, get a phone with a screen size less than 5.5 inches to make sure it's within the range of your fingers. While if you're particular with graphics and you'll be using your smartphone for watching movies, playing games or editing photos and videos, buy a smartphone that has a bigger full HD screen. However, the latest smartphones are now equipped with larger screens but can still be held with one hand and that's one thing to be thankful for.
Camera
A common misconception about the cameras on smartphones is that they take better photos solely depending on their megapixels. Although it's a vital part of the camera, it only determines the size of the image and the pixels, which makes pictures sharper and clearer as the number gets higher. Aside from that, you should also look at the phone's autofocus, camera aperture, IOS levels, and face detection.
Storage Capacity
If you want to download a lot of apps and take many pictures, make sure you pick a phone with sufficient storage and memory. Latest smartphones are integrated from 16 GB up to 128GB of storage capacity. Keep in mind that you won't actually consume all of this memory because of pre-installed apps and some processes that take up some storage.
Audio
In choosing the right smartphone, make sure the audio quality is crisp and loud enough when you watch videos, play music, games and even when you're talking to another person in loudspeaker mode.
Processor
A smartphone's processor is what determines its operating speed. In other words, it is the "brain" of the handset. Every device has a different processor depending on several factors such as UI and OS version. If you just use your smartphone for light activities such as browsing and for communication, devices with single-core processors can be enough for you. However, if you use your smartphone heavily for activities such as editing media, playing games and watching movies, you might want to opt for smartphones with dual-core processors and above which allow you to multitask at a consistent speed.