Thinking of getting a good hair straightener? This GHD IV Styler Review might help prevent bad hair days. I have big natural wavy hair that often gets in the way, it's annoying. At first, I was afraid to use any hair straightening product out of fear they might damage my hair, but I was desperate to transform my hair from looking thick to "on fleek" without the need for treatment.
"Gorgeous hair is the best revenge."
–Ivana Trump
After experimenting with different hair straighteners, I still wasn't satisfied as some of them tended to pull my hair meaning I would often notice hair on the floor once I had finished. This was until I tried my friend's straightener and immediately fell in love with it!
Last update on 2023-01-04 / Affiliate links / Images from Amazon Product Advertising API
But before I elaborate more on the good stuff, I wanted to share with you some things that might help in finding the right hair straightener for you.
---
Your Hair Straightener Buying Guide
---
Hair Texture
We all have different hair textures, try to pluck a strand of your hair and check it. Mine's thick which is probably the reason why it's wavy. And because I have this kind of hair, I need a hair straightener with a high temperature to make sure it lasts throughout the day.
Whilst for those who have thin and fine hair, too much temperature can ultimately damage your hair, so it would be best to choose one that has different heat settings – preferably the hair straighteners that allow for low heat.
Flat Iron Plate Type
Ceramic plates work well in reducing frizz and adds smoothness to the hair. This material is a good heat conductor so the heat is evenly distributed throughout the plate, which allows you to smoothly straighten your hair without having to go over an area again. Additionally, ceramic plates apply less friction when your hair is between them so it produces less damage to your crowning glory.
Teflon, a material that's also used in frying pans, is a non-stick coating that surely won't pull your hair. It also protects your hair from product build-up that usually causes the frizz.
Tourmaline Ceramic-Plated
Tourmaline produces negative ions that help combat frizz and lock in moisture. It gets rid of the positive ions that can be found on damaged hair. The Tourmaline Ceramic Plated Flat Iron uses infrared technology to gently give your hair a smooth finish.
This type of hair straightener is best recommended if you have naturally curly hair and but want to straighten it. Titanium quickly heats up the plates evenly at a higher temperature compared to other materials. Titanium plated hair straighteners tend to be quite expensive as they are made especially for those who have coarse and curly hair.
Heat Temperature
Not all hair types require high temperature to straighten effectively. Although it does the work faster, excessive heat can damage your hair and instead of just trying to make a quick fix, you might need a total makeover. To avoid this, just choose a straightener that has an extensive option for adjustable heat settings so that you can start with the lowest heat and increase it as needed.
There are a lot of affordable hair straighteners but be cautious when choosing one because some of them don't have the ability to evenly spread the heat on the plates. I fell into the exact pit during my search for a straightener that's reasonable for its price. However, when I tried the GHD IV Styler, I found myself using it for a long time and never again looked for another one.
Did I just discover the best hair straightener? Let's find out!
---
---
As I was telling you, this is the exact model I used in my friend's house. Before I bought one for myself, I did my best to research and know more about the product.
Good Hair Day, or commonly known as GHD, is one of the leading hair care products manufacturer, they are based in Leeds, UK. They have been around since 2001 and their products have been raved by professionals and non-pros. In fact, GHD is the first hair tool company to sponsored the infamous Victoria's Secret Fashion Show. No wonder I felt like one of Victoria Secret's Angels when I first tried their product! Kidding.
With all the success they attained, GHD is still known for their very first and original product, the GHD IV Styler. It uses ceramic heat technology and GHD claims that your hair will get perfectly straight hair in no time. "Simple, effective, iconic" is what GHD promises with this particular model. It's suitable for all hair types and doesn't just have to use for hair straightening. With its round barrels, you'll be able to style your hair in different ways, especially curling.
Pros
Glides easily on the hair
30-second heat up time
Has an automatic sleep mode – turns when not in use for 30 mins.
Cons
Quite expensive compared to other brands
Doesn't come with a protective plate guard
No safety lock for the plates
---
Features & Benefits
---
  Floating plates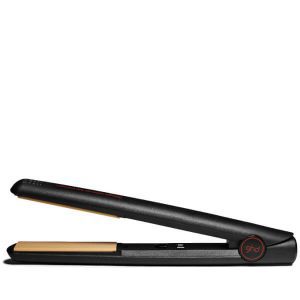 Floating plates allow you to completely control the straightener when styling your hair. It's a technology that was made for the styler to glide smoothly through your hair even with just a single heat setting. With floating plates, the temperature is evenly spread and applied to your hair with just a light press. This protects your hair from being exposed to too much heat and helps you avoid using it for too long.
GHD Styler IV features floating plates and it's integrated with the company's original ceramic heating technology which is made to ensure that the heat is evenly spread throughout the plates. This prevents damage to your hair while effectively styling it however you want, be it straight or curly.
Round Barrel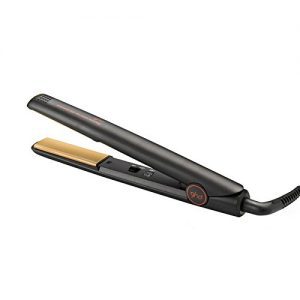 The GHD IV Styler has a round barrel which means you have a hair straightener and a curling iron in one! You can style your hair however you want – be it large curls, loose beachy waves, or just flat straight hair. It transforms your hair whilst leaving it smooth and shiny. The round barrel allows you to explore any styling possibilities that suit every occasion.
Automatic sleep mode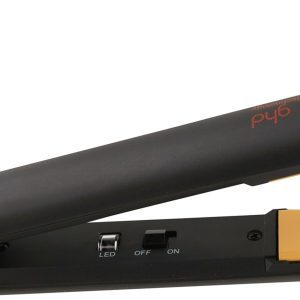 Not only is the GHD IV Styler a perfect hair tool, it's also energy efficient because it automatically turns off after 30 minutes of not being used. There are days when you're in a hurry but you can't skip styling your hair and there's a chance you forget to unplug your hair straightener. GHD probably have gone through the same dilemma so they integrated this very useful feature that also prevents any major damage that can be caused by overheating.
185°C Optimum Temperature

Along with the original ceramic heating technology, all GHD stylers work at 185°C which ensures a long-lasting and professional looking finish. This temperature instantly styles your hair from root to tip whilst evenly spreading out the heat.
It doesn't exceed this temperature to protect your hair from being damaged because of too much heat, just enough to keep the style in place throughout the day.
---
---
As with any careful and practical consumer, I looked into reviews regarding the GHD IV Styler. I checked on Amazon first and saw that it ranked 4.5 out of 5 stars which is a very impressive rating. I looked through different review websites because I wanted to make sure I was making the right choice.
As I was reading through the reviews, I got more excited about buying the product.



When I read reviews, it's important that they are up to date so that I know they're still reliable and looking upon these, they were posted within the year so I'm confident that they're genuine.
---
Alternatives
---
Last update on 2023-01-04 / Affiliate links / Images from Amazon Product Advertising API
This hair straightener looks very attractive because of its rose gold tone, and it comes with a case that's in the same colour. The Remington
S9100 Proluxe Hair Straightener has six different temperature settings with a maximum of 230 degrees Celcius. When you find the right temperature that's suitable for your hair, there's a lock button for the heat to be consistent as you finish styling your hair.
Like the GHD IV Styler, it has a Pro + setting which allows the item to heat up to 185 degrees Celcius for better styling and hair protection. It's also built with a ceramic coating to smoothly glide through your hair while styling. It's much like the GHD IV Styler, however, it automatically shuts off after 60 minutes which is quite a long time before anything goes wrong.
---
Last update on 2023-01-04 / Affiliate links / Images from Amazon Product Advertising API
If you want to try a hair straightener that's Tourmaline infused, then this particular model can be a good one to start with. Tourmaline crystals keep your hair moisturised even when exposed to high heat. It's quite an advanced hair tool because there are no buttons available, you just simply slide your finger up and down to adjust the temperature. It also has round barrels just like the GHD IV Styler so it's possible to do different styling techniques.
It has 8 adjustable heat settings and it heats up in just 15 seconds which is faster than the GHD IV Styler which heats up in 30 seconds.
---
Last update on 2023-01-04 / Affiliate links / Images from Amazon Product Advertising API
Unlike the GHD IV Styler, that's ceramic plated, the Toni & Guy Illusion Styler Straightener is integrated with titanium floating plates that allow much higher heat through your hair. It has touch controls to adjust the heat settings depending on your hair texture. This straightener beeps when it's heated enough and available to use for styling, which is convenient when you try to do other things while styling your hair. 
---
Conclusion
---
I definitely bid goodbye to my bad hair days ever since I discovered the Good Hair Day products, no pun intended. I can style my hair even when I'm in a hurry because I don't have to go over the same area, unlike other brands. It really satisfied my expectations and I'm not planning to change it until it wears out. I heard that it can last up to 10 years, so we'll see about that!