I have a 6-year-old niece who forgets to brush her teeth regularly. To make brushing fun, we decided to get her an electric toothbrush. We found the Oral-B Pro 2 2500N along with other fancy toothbrushes in a cashback site. It's not the most advanced electric toothbrush out there. But we are thinking of buying one for ourselves to match our daughter's electric toothbrush and at the same time get a good clean.
Last update on 2023-01-04 / Affiliate links / Images from Amazon Product Advertising API
---
Things to consider before buying a toothbrush
---
What type of toothbrush should I use?
There are a lot of toothbrushes to choose from on the market today and it can get pretty confusing. So we turn to the family dentist's tips on choosing a toothbrush once and for all.
Choosing a toothbrush with soft bristles is enough to remove plaque and food particles from your teeth. Most people would choose a bristle with a little hardness to make sure nothing gets left behind. This is wrong, a bristle that is too hard causes microscopic lacerations and gives your gums a darker shade in the long run. Correct angling and good brushing motion.
Other things you should consider is the head size, neck, and handle. Choose a toothbrush that has a smaller head since this allows you to clean the hard-to-reach areas. I'm not a dentist so I wouldn't know teeth or mouth-related stuff to the extent they do, but I personally think that a ridge-shaped or zigzag bristle surface and criss-cross bristle strands are the best ones since they touch your teeth at many different angles.
Surprisingly, our dentist recommended, not only to my niece but to everyone, to switch to electric toothbrushes since they are better at teeth cleaning compared to a regular toothbrush.
Electric toothbrushes are recommended for those who are physically less mobile. This is because they require less brushing motion but still gives your mouth a good clean.
How often should you replace your toothbrush?
The bristles of your toothbrush are going to be the deciding factor. The average lifespan of a toothbrush is three months. If the bristles start to wear out sooner, do replace them.
---
---
Last update on 2023-01-04 / Affiliate links / Images from Amazon Product Advertising API
The Oral-B Pro 2 2500N is another electric toothbrush by Oral-B. This is an upgraded version of the Oral-B Pro 2500 and promises the same cleanliness and comfort of brushing your teeth. The key differences are the colour variation and extended battery life. The battery upgrade is from a Nickel Metal Hydride (NiMH) to a Lithium-Ion (Li-Ion) which doubles the lifespan. You will also get a travel case which does not come with the previous version.
Pros
– Better plaque removal than a manual brush
– Travel Case
– Visible Pressure Sensor
– Two brushing modes
– Cleaning Timer
Con
– Initial charging takes time
– no battery level indicator
---
Features and Benefits
---
Better Plaque Removal vs Manual Brush
Dentists recommend their patients to switch to electric toothbrushes as they have been scientifically proven to give your mouth a better clean. Oral-B's oscillating round brush heads reach areas in between teeth that manual brushes easily miss. Electric brushes help improve frequently noticed mouth issues such as recession and sensitivity, this is due to improper brushing and gingivitis from not brushing at all.
Electric brushes are also recommended for children especially if they have braces. Elderly patients with dexterity issues also benefit from electric toothbrushes. Many older patients can't move their hands the way they want to, so if they use a manual brush, plaques are likely left behind. An electric toothbrush does the cleaning for them as long as they place it where it needs to be.
Travel Case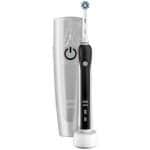 I consider this an advantage of the Oral-B Pro 2 2500N when compared to other electric toothbrushes. The travel case protects the toothbrush from accidentally turning on if it comes in contact with other stuff in your bag.
Visible Pressure Sensor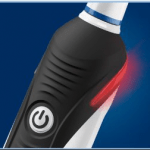 Too much brushing can damage your gums and teeth. Oral-B's Visible Pressure Sensor lights up when you apply too much force when brushing. Most of us have the notion that the harder we brush, the whiter or cleaner our teeth would be. Brushing with too much pressure can actually do more damage than good since your gums are softer than most bristles. The worse part is that when the line where the gums and teeth meet gets damaged, it will shrink and will not grow back.
This exposes the neck of the tooth where there is no enamel to protect it. This leaves the tooth vulnerable to infection and increased in sensitivity. Remember the sensation of pain you feel when you drink cold beverages or hot coffee? That is the tooth reacting to the temperature. Receded gums reveal the yellowish colour of the tooth which is not covered by enamel. If the damage is done, you can try consulting your dentist for gum surgery.
But then again, all this would have been avoided if you brushed gently but thoroughly, or used an electric toothbrush.
Two Brushing Modes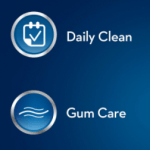 Oral-B electric toothbrushes have a number of cleaning modes and Pro 2 2500N has two of them: Daily Clean mode and Gum Care mode.
Daily Clean
This is the standard mode for daily mouth cleaning. 4 sets of 30 seconds allow for a total of two minutes of brushing. An audible tone will let you know when 30 seconds is up. The best Oral-B brush heads to use for this mode are the Cross Action, Floss Action, TriZone or Precision Clean.
Gum Care
This brushing mode is specifically programmed for those who have sore, inflamed and bleeding gums. What makes this unique is that a massage-like brushing motion stimulates blood flow which strengthens gum tissues. It has the same four 30-second sets totalling two minutes.
Cleaning Timer
Dentists recommended an average of two minutes in brushing teeth. Some may recommend up to three minutes of gentle but thorough brushing. One and a half for top and bottom teeth. I think this is to maximise the effectivity of the toothpaste.
Any less would not have maximised the capability of your toothpaste to remove and melt plaques, any more and you could be damaging your mouth. Anyway, Pro 2 2500N electric toothbrush does this for you. Timing your brushing session in exactly two minutes, with 30-second intervals for each quadrant.
The Oral-B Pro 2 2500N in Action
---
---
It seems like I am the only one who is concerned about the initial charging time and the battery level indicator. I do not see how I could estimate if the battery is about to die out. The only instruction I found was to use it twice a day for two minutes, for two weeks. I still needed to be sure if my partner and I are getting a good value-for-money with this toothbrush. I scoured the internet to find a few testimonials or comments about the Oral-B Pro 2 2500N. To be honest, I have not found any negative comments at all. From 2015 to 2018, the comments seem to find no fault at all. Background check for Oral-B Pro 2 2500N is so far, so good.
---
Alternatives
---
Last update on 2023-01-04 / Affiliate links / Images from Amazon Product Advertising API
The Oral-B Pro 2000 is pretty much similar to the Pro 2 2500N in terms of features. Two brushing modes, Gum Care and Daily Clean, are the most used modes of all Oral-B toothbrushes. You would also get the 2-minute Timer Feature and the Pressure Sensor feature. All the differences lie in the battery life. The Pro 2 2500N has a significantly longer battery life because of Lithium-ion which is more powerful than Pro 2000's Nickel Metal Hydride.
---
Last update on 2023-01-04 / Affiliate links / Images from Amazon Product Advertising API
If you liked the Oral-B Pro 2 2500N but found the black colour too basic, the Pro 2 2000W could be for you. It has all the features of the Pro 2 2500N. Gum Care and Daily Clean brushing modes, the 2-minute Timer, and the Visible Pressure Sensor. And you get the Lithium-Ion battery that lasts up to two weeks. I personally refer to this as the female version of the Pro 2 2500N.
---
Last update on 2023-01-04 / Affiliate links / Images from Amazon Product Advertising API
If you want a child to look forward to brushing their teeth, the Oral-B Junior might just be the one you are looking for. This is what we got for our niece. The Pro 2 2500N's bristles are soft yet easily get the job done. We see no reason for our niece to brush her teeth too hard. This has the same 2-minute timer that makes sure little ones do not over-brush their teeth. A battery that lasts for a week is just right for the price.
---
Conclusion
Sore and inflamed gums, tooth decay, portability, and a good battery life – this is what you get with the Oral-B Pro 2 2500N. After the number of reviews read and the way we scrutinized the features, it is clear that this Oral-B electric toothbrush is totally appealing. It is not the most advanced toothbrush on the market, but it is also not the most expensive. Oral-B Pro 2 2500N has the right features that I am looking for.